December 2002
12/31/02 (05:15 p.m. AST) Well, who would of thunk it could happen so soon...the last post of 2002...wow, that's right it's New Year's Eve! I have been adding some new things here lately at the bottom of this page is a new link to Gas Buddy where you can check out your local gas prices to find the cheapest place to fill your tank. This was inspired by the fact that gas prices here went up 5 @#$%ing cents in the last 24 hours...bastards. It's new years so they probably figured that with all of the people on the roads, and the cab companies putting on extra cars, that they could rake in some extra coin...again, bastards! As well, as I've said previously, the new Glossary of Audio / Video Terms on my Home Theater page is coming along nicely, a lot yet to still add, but it's getting there. I've begun 'tweaking' the site a little more lately, so check back for more frequently...there is new stuff to come! Now on to the festivities! Off to my buddy Todd's for a few 'adult beverages' tonight and then it's off to Voodoo to ring in the new year! Happy New Year all...be safe!...and leave the car keys at home! Ciao!
12/27/02 (08:55 p.m. AST) Hey peeps! What's going on! I forgot to tell everyone I went to see The Two Towers the other night...great movie! But, like the books, I found this one a little draggy and because the second book was soooo detailed there definately has to be an extended version of the DVD coming out because in the first one, I didn't see a lot left out, and there was....in the second one I saw places that they left out tonnes of stuff. Anyway, still worth seeing! The battle scenes are amazing! They also did a great job on the "Ent's". I could blabber on but I won't.
Hey!...For all you Home Theater people I added a Glossary of Audio / Video Terms on my HT page, well I started with the 'abbreviations' and am slowly getting to the 'terms'...it should be very informative when I'm done. Well gang, off to do some work...or something, heh, then it's off to the big Boxing Day sales at the mall...cheap DVD's heh...later~
12/26/02 (08:55 p.m. AST) Hey gang! I hope that everyone had a great holiday's and that the guy in the red suit found y'all! I'm just sittng here listening to my new 'Rolling Stones - 40 Licks' CD that I got from the girlfriend reading my new Sound & Vision 'Buyers Guide 2003'. Relaxing with some good tunes and a cup of Tim's and doing some updating to the site, it was really nice to have a couple days off and back to the grind for a day tomorrow, then off for a couple of more. Thanks to Cindy for the grub yesterday! Anyway gang, off to listen to some more tunes..."under my thumb..." ciao!
12/24/02 (08:45 a.m. AST) Happy ho ho and all that jazz...here's something to help you out...


...hope this helps you x-mas 'challenged' individuals out there, this is what they are supposed to look like...good luck! Merry X-mas!
12/23/02 (04:16 p.m. AST) The 23rd!!! Holy crap! I better get shopping! Just kidding...I actually did my shopping early this year...intead of waiting until the 24th as usual...I got it all done sooo much earlier...yup, no stress, easy as pie...yah the whole day of the 22nd...heh! You people that have been reading my site for a while and those of you who know me...all know that this is my LEAST favorite time of year...toys & booze aside and everything...what's good about this time of year? Don't bore me with all your blathering's of time with family and loved one's and all that crap! Most people...hmmm...most sane people, if they're not ready to wrap their hands around a memeber of their families throats within' 30 min of the beginning of a family gathering...well...that just ain't normal. Christmas is just more expensive, more stress, more traffic, more of a pain, more lines/more waiting (and anyone who knows me knows how I feel about waiting in lines), more grief all around. So if anyone can tell me what is sooooo frigging good about x-mas...please let me know...remember, booze and toys aside...oh!...and time off work. Sigh...
12/17/02 (08:10 p.m. AST) Hey gang! Not much to report these days, the Habs are doing well, getting ready to watch a game now...Go Habs Go! I'm still waiting for more submissions to the Canadian Hotties page. The first gallery is up and running with twenty photo's of lovely Canadian ladies...keep those submissions coming...got to get gallery two up and running! I also added some great audio equipment links on the Home Theater Page for everyone to enjoy. Anyway gang...they're about to drop the puck! Later!
12/14/02 (05:00 p.m. AST) Well hey gang! I survived Toronto...will wonders never cease! Had a pretty good trip...look's like your's truly is going to have a LOT of paperwork to do once I start my new position at work. I went to one interesting restaurant called "Arizona's"...not one bad looking waitress in the place...not ONE! This place was incredible, and I'm not talking about average gal's either...HOTTIES. Speaking of hotties (like that sequay, heh), the first Gallery is up on the Canadian Hotties page. Some nice looking ladies in there from all across the country...keep sending in those pics! Speaking of pic's (yet another seguay, heh) I didn't manage to get any in Toronto...so...to bad for you. Heh. Anyway gang gotta get some stuff done, we are off to Don's for a little b-day 'do' for him...Happy Birthday Don...gotta go...ciao! Don't forget to check out the ladies!
12/10/02 (08:30 a.m. AST) Well, I'm off to the big city of Toronto in about three hours...flying up to learn what it is I am going to be doing with my 'promotion' at work. Not bad, here six months and have advanced already, I like this place! I got my first few submissions for the Canadian Hotties page last night...look for those later in the week! Anyhoo gang gotta get ready to go. Talk to you sometime...weeee!
12/09/02 (08:25 a.m. AST) Whoompf! That was the sound of me kicking the crap out of my liver this weekend. Damn! Friday was my Birthday, and at the same time it was my staff x-mas party for work...hmmm free food, and free booze...yes free booze. There are gaps in the evening, but yay me, there is photographic evidence, something about 'air-guitar', a 'santa hat' and someone's 'skirt'...heh, I'm sure I'll hear about it. Then Saturday came along and because I didn't get to party with my friends 'on' my birthday...off we go to Voodoo and do it all over again. Sigh, thanx to those that attended, and thanx to those that didn't bail early...yah wusses! ;) Then Sunday, I got the call to go curl for the company team...geezuz...no rest. I know one thing is for sure, my neck is some sore...it hurts to move it...heh, maybe that has something to do with that 'air-guitar' and the skirt I'm hearing about...
12/06/02 (09:25 a.m. AST) NOTE! My birthday is in exactly...now! Done Shopping? (Note: Cash Also accepted)
Yup That's right...this young fella is another year older today...the well wishes, hugs & kisses (females only please), packages, gifts, cash...should all be rolling in momentarily....OR IT DAMN WELL BETTER BE! heh, you don't want me cranky on my birthday...that would just be bad, bad for me, bad for the world, almost 'armageddon-ish'...I leave the fate of the world in your hands, heh...ciao!
12/05/02 (12:55 p.m. AST) WARNING! My birthday is in exactly "11" hours (Friday Dec 6th) Get Shopping! (Note: Cash Also accepted)
Waaaayyyyy to busy to type much, gotta lot to do today....here read about how stupid people can really be...not that any of you with half a brain out there don't know that people are inherently stupid. Sometimes I wonder how the human race survives...sigh. Gotta go. If your lucky I'll type more later.
12/02/02 (04:55 p.m. AST) WARNING! My birthday is in exactly "4" days (Friday Dec 6th) Get Shopping! (Note: Cash Also accepted)
Hey it's Monday, wheee! I'm so thrilled. But I got my first birthday present yesterday from my Dad, I got a new tool, some cash, and a free meal. Yay me. So all in all, yesterday's action wasn't all that bad. As you can see above, by the look of my calendar I am only a few days away from my day of fun. Can't wait for the gifts to start rolling in...yay me, again, heh. Watched a great movie Saturday night too... "Men With Brooms"...what a riot, some understanding of the game of curling helps but it's still amusing otherwise, plus there is a fair 'chick' element to it to keep the ladies interested. December, wow, I'm still fighting putting away my sandals...sigh, but I guess it's inevitable...God I miss summer. Winter...you go away now...sigh...it just means I have to buy four new winter tires...dammit. Well, time to slip and slide home from work, later.


November 2002

11/29/02 (10:05 p.m. AST) Well, it's Friday, the weekend is upon us...my new laptop Rocks!...my car passed safety inspection...it's only one week until my birthday (hurry up and get shopping)...it's the weekend, did I say that already? heh. Not much else...have a good weekend, ciao.
11/27/02 (01:05 p.m. AST) So it's the girlfriend and mine's monthly anniversary, yes our relationship is still new enough that we still acknowledge that, so we go out for supper. Instead of going to our usual dining place the we frequent often, Don Cherry's, we decide to try something different. Big mistake. So we go to this place called Mike's. We have been there before and everything was great...little pricy for the portions but good. So I get this pizza/spaghetti combo and everything looks great...so I eat my spaghetti...no problem, quite yummy actually. Then I get to the pizza, the first bit tasted a little odd, so I took yet another, this one tasted really 'funny'. What I mean by that is it tasted like the meat on the pizza (pepperoni) had started to go bad but they used it anyway. I do not eat the pizza. Long story short when I told waitress she said "I don't know what to say?...I'll tell them in the kitchen"...a few moment later she returns from the kitchen with the bill and tells me where I can pay it and gives me a little smile...I figured she knocked some of the price off of the bill for me being unhappy with the product she served me...HAH! Full price everything! No reduction...hell I would have been happy if I didn't have to pay for our $2 fountain pops which would have been less than ten percent of the meal total. But no...so here's my advice to you all...don't go to Mike's Restaurant in Moncton...they suck! The service sucks. I'm going back to Don's, where they give you a reduction or don't make you pay for what you were unhappy with! Mike's?...You suck! That is my public service announcement for today. Ciao!
11/24/02 (10:15 p.m. AST) Hey gang...how's it going?! Had a good time at Paul's last night, the beer was cold, the munchies were yummy, and the company good. Paul is starting to have a weird collection of pet's, but watching his lizard run around on the floor was kinda cool. Speaking of the floor, sorry about that dropped/spilled beer guys. But anyway, had a good time, thanks for the invite.
Anyway gang, not much happening today, we are back to the grind tomorrow which is a drag...holy crap it's cold out...just got back from Quizno's for supper and damn near froze my 'quiznos' off if you get my meaning!? We really need to get a handle on the earth's climate, I think from what I've learned that they (the powers that be) had better wise up. I think it's time that the world ratify the Kyoto Accord as the first, and it would only be the first, step to getting a handle on the worlds' climate. These drastic changes in climate are ridiculous, we have said for years that we have to leave a better planet for our children? Screw that we have to 'save' the planet for ourselves. Read the link I've provided, be informed...Geezuz people, wisen the hell up! I'm done preaching for today. Later.
11/23/02 (06:30 p.m. AST) Hey gang! Ahhh, the weekend, gotta love the weekend. Looks as though we are off to Paul's tonight for a few brewskies and some social activity. That should be interesting. I'll follow up with that tomorrow.
Speaking of being social I am still waiting for contributions to the Canadian Hotties! page, come on gals send in those pics, don't be shy. They don't have to be professional shots, they can be taken with a disposable camera for all I care...just send them in.
Well, speaking of great photo's...guys would you like a sexy pic of a beautiful woman for your desktop? Then go to Sexy Desktops, they have some great shots that are certain to jazz up your desktops. Oh, and I've noticed that we've passed the 14,000 hit mark...it would be really great to hit the 25,000 mark by the 2-year anniversary of this site on Feb. 16/03...so keep those hits coming! Have a good rest of the weekend gang...I'm off to have a beer.
11/22/02 (10:15 a.m. AST) Hey kids! What's up! Do I sound like I'm in a good mood, well I am for two reasons... First, of course, it's Friday. Second, I'm updating today on a sweet new machine I got at work. This new laptop rocks! Pentium 4, 32meg Video, 2 USB Ports, DVD-ROM, 15" Screen, it even has an S-Video Out!...this thing is sweet! Watched a movie on it yesterday...damn! This thing has a better picture than my tv! Gotta get to work so I'll hopefully put more on later...ciao!
11/19/02 (08:20 p.m. AST) What a hellish weekend that was...recap: Friday after work I drive to my Dad's, in every 'non-frozen' type of precipitation known to man. That was a treat, on a friggin' road known for it's moose/auto related fatalities and I can barely see a mile in front of me. Finally reach my Dad's. Work on my car all weekend and get most of it fixed (new muffler, new brakes, some bodywork) to the point that I should be able to pass safety inspection. Fine. Sunday, getting ready to leave...know where I'm going with this?...a freakin' 'Nor-Easter' Snow storm hits us. Geezuz, I'm trying to finsih up my car to hit the road...yah, get on the road and drive 20min and turn around dammit! So I miss a day of work and can't get hom til Monday. Speaking of Monday, a normal 3hr drive takes me about five hours, and if you could think of it...I drove through it. Sigh. Oh well, a shout of thanks out to my Dad for all of the help with the car!
PLEASE NOTE: It's my day in 16 days...the day the world became a better place, or is that a bitter place...heh, whatever. In place of gifts I also accept Visa, MC, AE, and good ol' fashioned CASH (Cash is the best, then I can buy what "I" want, and not have to fake that I like some lame ass thing that your demented little mind dreamed up and thought would be cute)! For those of you dazed enough not to understand...it's my birthday in 16 days (December 6th)...so break out your cheque book! Mmmmm, gifts, money...sigh
All 'gifts' of any form can be given in advance or brought to my "Birthday Bash" at Voo Doo on December 7th . See yah there...if I don't, your loss not mine.
11/15/02 (09:02 a.m. AST) Well kiddies it's that time of the week...yesss...it's Friday...weeee! Speaking of the weekend, off to my Dad's up north for this one...gotta spend the whole weekend working on my car. Got some stuff to do to get past the safety inspection. It amazes me really, look around if you' ve ever had the potential of having your car rejected for safety inspection. I see cars out there every day that I don't have a freakin' clue how they pass? Bumpers held on by chicken wire...rusting so bad that a strong wind will put a hole in the fender...muffler so bad that it sounds like a Harley is quiet...how do these cars pass??? It's incredible! My car has a little rust around the rocker panel, and some other minor stuff (not incuding the hole in the quarter panel due to an accident, but that is getting fixed this weekend too) and there is nooooo way that my car would pass?? What is up with that?! Anyhoo gang...give you a full update on the automotive progress on Monday...have a great weekend gang!
11/12/02 (09:30 a.m. AST) Let's wrap up the last few days...
Long Weekend: It's gone. It came, it went...it's over...dammit.
Shaolin Monks: If you get to go see this show, anywhere, do it. It was one of the most amazing things I have ever seen, well worth the money. Guys, I'll put it to you like this...my girlfriend has no interest in Martial Arts, she complained that she really didn't want to go but would for me, she was rolling her eyes the whole way to the show...she was on the edge of her seat, eyes dancing around the stage, clapping faster and harder than I was...her words at the end of the show "That was incredible!" So there you have it.
The Weather: What the hell is up with this weather...last week it was minus 15 yesterday...it was 20 freakin' degrees out...not that I'm complaining, but geezuz, somebody stop screwing with mother nature's thermostat!Canadian Hotties: Still no pics sent in to be placed on the page...I know you canadian girls aren't that shy! Send in the pics so we can get this party started! Send to: canadianhotties@canada.com
Today: It's the first day of a new work week and the only salvation to that fact is the fact that it is only a four day week. Working on getting my car fixed...no that is not done yet...dammit...gotta get it done soon though...safety inspection is due at the end of the month. Anyhoo gang, now that we are caught up...gotta get to work...ciao!
11/11/02 (12:05 p.m. AST)


Don't Forget...Remember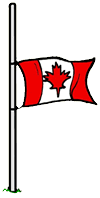 11/07/02 (09:25 p.m. AST) Hey gang! I do believe that winter is here to stay...sigh, it snowed again last night! But hey, at least it wasn't enough to shovel, or was it anywhere near the almost 30cm of snow they got in Nova Scotia. It's weird, normally it's us that gets 30cm and they just get rain...heh, suckas, I knew it would be your turn someday. Don't fear though, things should be back to normal momentarily and I will be bitching about how much snow I've had to crawl out from under.
Today's the day...went and got my tickets to see the Shaolin Monks tonight at the coliseum, can't wait for that...will give a full update tomorrow, going out for dinner first and then to the show. More Tomorrow.

Speaking of new things...check out the new page that I've added called Canadian Hotties!. It's a place to celebrate all the fine canadian women that are out there in the world. Send in pics today and they'll get posted on the site (No nudes, they will not be posted). Ladies send in your pics, guys send in ladies pics, let's show off the 'talent' that this country has! Go to the page and use the e-mail there to send me pics of the beautiful canadian ladies that I know are out there! Have a great day gang!
11/04/02 (09:29 a.m. AST) Well, Winter finally blew in in all it's blustery bitchiness on Friday, yay for that...that was sarcasm for you uninformed out there. Winter bites. Well, my friend Paul finally got the The Coke Machine Incident back up on his site so that we could all enjoy the hilarity. It is quite the creative little piece of hmmm, journalism? Heh, check it out. Saturday came and went, got to watch my Habs (Canadiens) beat Toronto on Hockey Night In Canada, that's always a good time. Speaking of good times, I'm the spare on our company curling team, so I got 'called up' on Sunday. Had a good game...we lost but hey, we held our own...and besides...when you lose, the winners by you a beer! mmmm beer. Gotta go....
11/01/02 (09:15 p.m. AST)

R.I.P Jam Master J (a.k.a. Jason Mizell)
January 21, 1965 - October 30, 2002
"Spins he wins, clocking endless ends, to his friends he lends, lotta joy he sends, Jay lose today, this is what I say..."

Taken from the song Beats To The Rhyme off of the RUN-DMC Tougher Than Leather album released May 16 / 1988.

October 2002

10/31/02 ( 6:45 p.m. AST)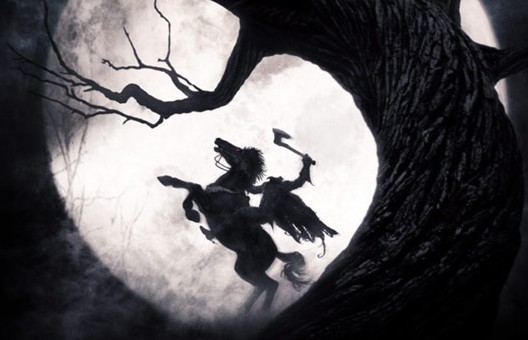 Happy Halloween!
10/30/02 (12:05 p.m. AST) Waaayyyy to busy today to talk much, long night (long story), really grumpy and tired and very busy today! Check out this neat place I discovered yesterday, maybe your city is in there.

It's neat I watched the sun set over the strip in vegas yesterday, and watched the lights come on and the rollercoaster travel through the center of the city...enjoy...gotta go!
10/29/02 (11:45 a.m. AST) Tuesday? Did I miss Monday? Not that that is a bad thing, I hate Monday's...man, I didn't think that I was that out of it yesterday that the day would be such a blur. Either I'm really overtired or my memory is really starting to go. No age jokes please. Speaking of age...you all have exactly 38 days to purchase me a gift...that's right it's my day in 38 days...the day the world became a better place, or is that a bitter place...heh, whatever. In place of gifts I also accept Visa, MC, AE, and good ol' fashioned CASH (Cash is the best, then I can buy what "I" want, and not have to fake that I like some lame ass thing that your demented little mind dreamed up and thought would be cute)! For those of you dazed enough not to understand...it's my birthday in 38 days (December 6th)...so break out your cheque book! Mmmmm, gifts, money...sigh...
10/26/02 ( 6:53 p.m. AST) Ahhh the weekend the glorious weekend. Couldn't have come at a better time...sorry I haven't been keeping up with my post's gang...been really busy with stuff at work and trying to maintain my sanity. I'm getting ready to watch a little bit of the habs game before I have to go pick up the girlfriend. Might be going to VooDoo tonight to celebrate our 26th month anniversary...kinda neat...26 months on the 26th. I did the 'guy tour' today...dropped the girlfriend off at work and then went to Canadian Tire, Kent, Princess Auto, and Home Hardware...two hours later I came home and built something, had a couple of new things to hang on my tool wall too. Yay me! Anyhoo, when I get better at building things I'll post pictures of my creations. Anyway gang...gotta fly...later!
10/21/02 ( 8:44 a.m. AST) Wow, Monday...what a drag of a day, and speaking of dragging, that is exactly what I had to do to get myself out of the sack this a.m. Drag. God, I have to start getting more sleep. On that note I found one thing that I won't be sleeping at and that is this show...

It is coming to the Moncton Coliseum on November 7th. Click on the picture and check out the performance video footage...I'm not missing this for the world...actual Shaolin Monks putting on a display of their martial arts talents...damn, what a show this is going to be, don't know who I'm going with or if I'm going by myself...but I'm going! Ahhh, martial arts and Mondays...they sort of go hand in hand...the typical Monday BS to annoy the crap out of you and the martial arts to beat the hell out of it...funny how Monday mornings always makes me violent...Anyway gang I have to get to work...talk to y'all later.
10/20/02 ( 9:31 p.m. AST) What a weekend...bizarre short three day week...that's a long story. Anyway, didn't do much this weekend and it's back to the grind tomorrow...oh well. Went to the VooDoo last night for a couple of hours...it was ok...lot's of good looking women to look at...so that's good. Anyhoo gang...got a couple of taped shows to watch and then it's off to crash. I added a new 'Home Improvement' section on the left...check that out. Have a good night...
10/17/02 ( 9:21 a.m. AST) Yup, as soon as I say I'm going to start coming in here more...I skip a day...ah well. God I need sleep...I just don't seem to be getting enough...do you ever get enough? Not likely. Went to a Moncton Wildcats game last night...they could have won it except they allowed three goals in the first ten minutes...but hey, at least they tied it up and that is how it ended...so in the end it's good. So I get this e-mail from my Dad about this virus, I do what it tells me and delete this file because it says it is some kind of evil little thingy...turns out...the virus...was the e-mail. It's a Hoax!!! So if you ever get an e-mail telling you to delete a file that has a "Teddy Bear" Icon beside it, the file named jbrlmnopqst.exe...ignore it...it is a hoax. That is my public service announcement for today...people who do this
sh!t....cut it the hell out! Later.
10/15/02 ( 9:17 a.m. AST) Hey gang...man, I have to start getting in here more...I promise to be a little more diligent on my posting's. Well, inventory at work is over, thank God. Even though it delayed a trip to my Dad's this weekend, work extended into Saturday morning last week, blech! Then it was off to my Dad's for the weekend up north. The scenery was beautiful, the trees on the side of the mountains and all that nice warm yummy stuff. Speaking of yummy stuff it was Turkey weekend this weekend and we all should be stuffed to the gills and all have turkey sandwiches in our lunch bags today. Got to do some construction this weekend helping my dad on his house extension getting ready for winter. That was fun, hard work, but fun. Also started the repair process on my car...got new brakes installed on the front of my car...in a couple of weeks I get the back ones done...thank's dad. :) I needed them, when I faced all of the idiots on the highway home yesterday...don't people understand yet...that the speed limit is just a suggested speed and that any road I am on is my road and to get out of my way...geez get with the program people...sigh...later.
10/10/02 ( 8:17 a.m. AST) I'mmmmmmmm baaaaack! Damn hackers...they put some bug in the server that didn't allow me to access my site for two days...and to update for another day...dammit. I'm still at work...been 3 twelve hour days in a row and I'm exhausted...just keeping you posted...more later. "ZZZZZZ"
10/04/02 ( 8:36 a.m. AST) Wow, what a week...I'm so tired it's insane. We've been doing inventory at work all week and I've had several 12 hour days this week...when you have over 10,000 different parts to count...sigh. The crappy thing is...once we check it against the inventory system, we have to do recounts...sigh. So I just got a really weird entry in my guest book from some person local here the other day that asked me if I hate them? What the #@#$#@!? I don't even know you...mind you yes, some days that's all I need to dislike someone, but...huh? As my friend Paul would say....'you go squish now'! I really didn't like the fact that I had to get up and scrape the frost off my car window this morning...sigh, you know what that means...soon it I won't just be scraping...I'll be shovelling...dammit. Well, into October, the two major bonus points of this month are lots of Turkey to eat and scaring little children...uh?...I mean...giving out candy to little children and seeing their bright shiny smiles...yah, that's what I meant...heh. Or if that's not good enough...locking the door and eating the candy. Gotta go gang...more things to count...but hey...it is Friday...the weekend has cometh!

September 2002

09/30/02 ( 9:36 a.m. AST) It's the end of September already, holy crap. This truly was a month that I blinked and missed...sigh...it's getting even closer to the most evil time of the year...no not tax season...Christmas! The only good thing about x-mas is that I get stuff...but why do we need just one day for that...don't you people realize that you can give me gifts and gratuities year round! I'm an equal opportunity receiver...I hold no malice towards people giving me gifts out of season or on non-special occasions...heh! Well, the weekend came and went...sigh, much too quickly I might add. We had a small gathering at Derek's on Saturday, it was a little nauseating at times all the baby talk (two couples with babies...us without) but it gave me more reason to drink... Went to see a Moncton Wildcats game yesterday...took my five year old godson with me...that was an adventure...but it was cool taking him to his first hockey game. Anyhoo gang...gotta get back to work...getting ready to do inventory tomorrow...not good. Have a great day!
09/25/02 ( 7:46 a.m. AST) Wow, so where to begin...the weekend came and went in it's usual rapidness...went to Don's for a little corn BBQ / liqour ingestion on Saturday night, a good time was had by all. Sunday saw a trip to the big stop for...'brunch' I guess you could say...it was two in the afternoon...a good time was had by all. Then I came home and played with my computer for a bit, then it went wiggy, would not access the internet...not having a good time. Then I call the support line for my internet provider, and talk to a really nice lady...useless, but nice...(got the: 'maybe it's your cable to your computer bullshit)...still not having a good time. Then it takes me 3 days to get up and running again, and still don't know what happened...a good time was not had by all. Thanx to all that helped...well, gang, more later...I gotta get my sorry ass to work.
09/21/02 ( 6:55 p.m. AST) Hey! It's the weekend...yay! Doing a little editing and fine tuning here today...put in my first 'Back To The Top' button at the bottom of this page...plan on adding them to all my pages eventually. I fixed some of the pictures that were acting up and got those back up and running. Added some more links on the main and city page to things I think will be of interest. I also changed the look of a few of the 'photo links' on the left, shrinking them and such to make them a little more friendly to slower browsers (Come on, dial-up is archaeic but it's still out there). I've also put in links on some of the pages at the bottom to allow you quick access back to the home page. If anyone has suggestions for things they'd like to see here, drop me a note via the e-mail at the bottom. Looks as though we are off to a little 'shindig' at Don's tonight. Should be interesting I can't wait to see the look on Don's face when I bring out 'the' beer that I bought in Quebec a couple of weeks ago. I'll post pictures later (of the beer, not Don). Anywho gang, like I said anything you would like to see here drop me a note in my e-mail (at the bottom) I'm getting ready to re-vamp a couple of pages and am looking for content. Have a great weekend gang!
09/19/02 ( 9:02 a.m. AST) Well, it's Thursday...ever so much closer to the weekend...close but not quite there...sigh. Well, tonight marks the start of the fifth season of 'the big kid on the block' of reality shows...that's right


starts tonight on CBS. I heard a rumour that an interesting twist could be in place this year...that they might separate the women and the men. Can you imagine, they say that when women live together that their "Cycle" has a tendancy to synchronize...some weird cosmic thing designed to drive men to the brink I'm sure...imagine...for the guys this will be like a big camping trip, talk about women, get all horned up and go out for a challenge frothing at the mouth, only to be met by the bitch squad. Sorry, but my money is on the women...let the sparks fly...this could be interesting, note: I'm really freakin' glad it's not me!
09/17/02 ( 7:18 p.m. AST) Well, I survived the horrendous weekend...it's only Tuesday...still a long way away from the weekend, my car is still 'mushed' dammit and so far there has yet to be anything good about life in the universe for this week. Sigh. Just when I was beginning to get things back in shape again, some dumbass in a backhoe has to totally screw things up. (See last post) Anyone out there in web land knows where to get cheap body panels for a car let me know eh? (e-mail address at bottom of page) I wish I had a rich uncle that I never knew about but that met me once and loved me would leave me his estate. I get a phone call...a meeting with a lawyer...a big fat juicy check...sigh, and all the problems go away. So anyone that is near to death, hates their children, happens to be filthy stinkin' rich...and doesn't want to do something silly to piss off the family like leave it to their cat...do the next best thing...leave it to a complete stranger...ME! I promise I'll put fresh flowers on the grave...or at least make sure I pay someone to remember to do it. Paul...your right...the lottery...gotta start playing the lottery...but any of you rich old guys out there reading this...drop me an e-mail.
09/15/02 ( 1:35 p.m. AST) It hasn't been a good weekend, not at all...some ignoramous in a freakin' BACKHOE! hit my car yesterday...to make a long story short...I was passing him and he turned left! Dammit...I'd post pictures but I'm too depressed to even look at my car right now...sigh
09/11/02 ( 2:22 p.m. AST)
09 / 11 / 01

09/09/02 ( 6:42 a.m. AST) "ZZZZZZZZZZZZ....what?!....Monday?...nah...can't be...awww...your kidding!" Dammit. Well, not much happened this weekend saw a great blues band as I told you yesterday. Made a few changes yesterday to some places like my Home Theater Page I added in some great links to that page and some links to what I hope to someday have in my home, near the bottom ofthe page.... I added in a couple of new links on the left here to some places...made some aesthetic alterations to a couple of places and tweaked a few other things...have a look around and I'll see yah tomorrow..."Ho Hum....ZZZZZZ".
09/08/02 (12:37 p.m. AST) Well, to all you people that I invited to go see the band last night...to hell with yah (just kidding), yah missed a great show, the music was awsome! Hey, and for a $3 cover you can't go wrong. Oh, and to all you people from work that said you were going to see Tom play...and didn't...shame on you. Here is a link to check out the band we went to see a local group called Big Daddy Shad...


I have also added a link to the music section on the left (your welcome Tom) so that you can check back in on the guys progress.
Well, I'm off to one of my favorite store's to pick something up for my Dad...hmmm...maybe there will be something there for me as well, that's right off to Princess Auto...weeee!
09/06/02 ( 7:44 a.m. AST) Finally Friday! This has been the longest, draggiest 4 day week in history I think. Well, spent most of the night rebuilding a friends site because he was offline for a while and his service provider froze his site...he opened a new one and I transferred the whole thing for him...it took a lot longer than I thought...so much for going to bed early last night...sigh (Your welcome Don). So you can check out Don's site and remember I was half asleep when I did it...check it out here. I wish the dumbasses that are working on Morton Ave. here in Moncton would hurry up and get the job done, come on boys you must have got enough for your "stamps" by now, finish the freakin' road! Geezuz, you don't know how important one little road is until it's not there...the goddamn traffic yesterday...a normal 10-15 min drive took me a half an hour...I got to work with one minute to spare. Dumbasses. So now I must leave you and go fight my way through the traffic...great way to start a Friday, why can't they work at night when people don't have to go anywhere, well less people anyway...dumbasses.
Announcement!--Listen Up:
For all you local people that would like to see a great blues band on Saturday night...pop down to the Right Spot on Orange Lane right beside the Pump House. The band's name is Big Daddy Shad! They are really good, show starts at 10:00 p.m., come out and support your local talent!
Who: Big Daddy Shad
When: Saturday Sept. 07 / 02 AT 10:00 p.m.
Where: The Right Spot, Orange Lane, Moncton N.B., Canada, Earth, the Universe
BE THERE!
09/05/02 ( 7:56 p.m. AST) "Kelly, Kelly, Kelly..." Kelly Clarkson that is.

Ms. Kelly, managed to garner 52% of the vote over fellow competitor Justin Guarini's 48%. You may wonder why I blather on about this show...it hooked me, like it did many others...millions of others actually. This was the most watched show of the summer, and the final amount of voters for the stars was over 100 million phone calls. Congratulations to Kelly, the little hottie, with the big voice...will we hear from Justin again, I would think so. I also have to give two thumbs up to that dress that Paula Abdul was wearing last night...sweet geezuz! If I can find a pic I'll post it, but damn, that was one of the best times/ways I've seen her look yet. Oh, and they are planning on doing another show sometime in the spring...and yes...Simon Cowell will be back! Gotta love Simon, the man is hilarious, and against popular belief, knows what he's talking about! Anyhoo, off to work, later!
09/04/02 ( 3:26 p.m. AST) September? What? Summer's gone?...sigh...foul! I guess I blinked and missed it...dammit. Oh my God I'm tired...I blew my restful weekend (not that it was as restful as I thought it was going to be as there were a couple of...other people at my Dad's that I didn't think were going to be there, let's just say one was only 'six months old'...and loud), strange house, strange bed...hard bed. Anyway blew it last night...we had a staff meeting for work and it was at Dooly's (Local pool hall), we were in the private room they have...free food...and...drink whatcha want...sigh, 7:am came reeeeeally early this morning. Could this day drag any more! Geezuz! Speaking of alcoholic beverages...while I was on the north shore this weekend...picked up the coolest bottles of Budweiser...I'll post pick's later. Speaking of pictures the

has come out of the voting stage (you can still place your vote) and we have a list, with lot's of fine specimen's to oggle! YAY! Go get in your votes out, and let's help make this list better than last year's! (Oh, and hopefully...I say again...Britney Spears won't be number one this year, geezuz)

August 2002

08/30/02 ( 8:40 a.m. AST) T-G-I-F!!!! Thank GOD! It's currently t-minus 8.5 hours and counting and it is a looooooong weekend! Just to celebrate I have some great news...the people at www.deadbodies.org have finally got their collective asses together, (just kidding D.) and the 2002 version of the
has finally arrived! Go get in your votes out of the women from the big list, add a women to the list and vote for her, and let's help make this list better than last year's! (Oh, and hopefully Britney Spears won't be number one this year, geezuz) Woo Hoo! I'm off to vote...and get ready for the long weekend! Heading north to Dad's for the weekend...so no pearls of wisdom from me this weekend...See ya all on Tuesday!
08/29/02 ( 8:40 a.m. AST) Nicki is gone!!! Woo Hoo! I'm talking about American Idol and the contestant Nicki McKibbon if you have no idea as to what I'm referring to. Well, she was ousted last night...oooh did you see how pissy she got when Simon said that the only way America gets the vote right is if Kelly & Justin are in the final!? Damn...thought the girl was going to blow a fuse! Next week it's all over...early prediction: Kelly Clarkson is going to be the winner but hey I've been surprised before (Tamyra), and Justin Guarini could turn the tables on Kelly. Hey two weeks ago I thought the top three, would be Tamyra, Justin & Kelly...with Kelly & Tamyra in the final...wrong! We'll see next week! Two days and counting to the good ol' long weekend...sigh...can't wait. So heading up to the north shore this weekend to Dad's place for some good ol' fashioned R&R...I mean mind you that means 6 hours of driving (3 up / 3 back), but hey as long as the girlfriend doesn't drive me nuts with some weird music she wants to listen too and people realize that any road that I'm on is my road and to get the hell out of my way...everything will be fine. Ciao!
08/28/02 ( 8:37 a.m. AST) Ahhh, hump day only two more days and it's the arrival of Friday and the beginning of a long weekend in all it's glorious goodness. I hope I do better than yesterday, damn, I couldn't get out of first gear all day...didn't matter what I did, caffeine, sugar, cold air, nothin' could get me even into second yesterday...sigh. On the American Idol front, the show was pretty good last night, and Justin Guarini kicked ass last night. The boy can belt out a tune! Please America, don't be silly like last week and keep Nicki around any longer! We find out tonight, next week is the finale! Should be good...speaking of TV...in 23 days it all begins again...that's right it's Survivor 5!! Go here to the official site...this one looks really cool...it's in Thailand! For the survivor's I hear it wasn't so cool though...it was during Monsoon season! Anyhoo gang, gotta get my butt to work...ciao!
08/26/02 ( 7:29 a.m. AST) Wow, Monday already....ahh well, it was bound to happen. Only five more days and its' 3 days of glorious long weekend goodness! Heading north to Dad's place on the weekend, out of the city, relax in the boonies! Well, it's hard to believe, but it's mine and my girlfriends 2 year anniversary today...trust me that is saying something! For either of us. Happy 2 year Anniversary Melissa & Jason!! (Love ya lots baby!) Can anyone tell me where in the hell the monthe of August went? The 26th of already geezuz...soon I'm going to have start shovelling snow again dammit...shaddup it's soon enough. Stay tuned for some chnges around here over the next couple of weeks...I'm thinking about doing a little 'revamp' of things and it'll be happening soon. Anyhoo, gotta get my butt motivated an off to work...later!
08/22/02 (10:21 a.m. AST) OK...so I was watching American Idol last night and I couldn't believe my eyes. I've been watching this since the beginning, and yes it's pretty cheesy sometimes, but hey I love music and these kids can sing! This brings me to my next point...Tamyra Gray. It proves to me that people don't want talent any more they want a pretty face or a nice ass, a flash in the pan star, that releases one album with one huge mega-hit that has them touring worldwide for a year, has them on every awards show, on every teen magazine cover, and then...who?...oh yah, wasn't that that guy with that song? Tamyra was/is pure talent...and I hope (Judge) Randy Jackson is true to his word and helps her to super stardom. She is pure talent, and you want to talk about class? At age 23. She was eliminated, torn up inside, dreams shattered, even though she had been the favoured to win for weeks...and all she did was flash that now famous smile and say "That's ok, it's not my time". Darlin'...it was your time, you were just robbed. Now don't get me wrong the other kids are great, well, Justin (Don't worry Justin if you lose you will still have Paula Abdul because she wants a piece of your ass) and Kelly are great...Niki McKibbon, at this point, is so far out of her league (and she knows it) that I can't put her in the same category as the other remaining two. Now I will cheer on Justin Guarini, and Kelly Clarkson...Niki will be the next to go. Justin I will cheer supporting the guy...but my prediction (it was between Kelly and Tamyra to begin with) is the overall winner is Kelly. The girl can sing the hell out of any song...and can look damn hot too! Wise up America...you just threw away the 'prize'...hey, Tamyra...come up to Canada...we appreciate talent. I've said enuff, I'm really starting to get grouchy...back to work now. Idiot voters...sorry, just had to get that in there.
08/21/02 ( 8:34 p.m. AST) Geezuz I'm tired, I've started typing this sentence three times already. Is this miserable excuse for a week not over yet? Dammit it's only Wednesday?...sure Wednesday is almost over but still, I don't see Friday here in all of its glorious goodness yet? Sigh.
On the upside, they put a pop machine in at work yesterday...so what you say...it's twenty feet from my desk...yay me! Hey, if I have to work at least it can be on a Coke (a-Cola) induced (sugar) rush. That might get me through this lame ass, dragging past like a frozen something up some hill at some point in winter, bitch ass week! Shaddup...it's my site I can complain if I want! Don't make me hunt you down...my 'rush' hasn't warn off yet...I'll babble you to death.
No more Flash creations yet...moving slowly with that...it's hard, I'm tired, it's not getting done...deal with it. Thanx to all of the people in the 50megs Tech Forum, for listening to my simple ass questions, thanx even more for answering them! Gotta go...it's the Girlfriend's Birthday...sigh...yes guys...the suffering never ends...later.
08/19/02 (7:51 a.m. AST) Holy sweet geezuz...who in the hell was the imp that thought it would be funny to push Mother Nature's 'Sound FX button!! And at 3:30 in the morning. I'm talking about thunder and lighting...holy crap...loud?!...that had to be one of the most amazing and loudest T&L storms I've ever seen around here. Trust me I know it was one of the loudest in the last two years because it woke up the corpse that sleeps beside me...ummm I mean my girlfriend...trust me she sleeps as close to death as humanly possible. Just when you thought it was done...BOOOOOM! It was so loud and bright at points my apartment was lit up enough to see my way around, clearly. But needless to say...it was really cool.
08/16/02 (7:47 a.m. AST)

08/15/02 (7:41 a.m. AST) Holy Crap!...only five more hits and this site has hit the 10,000 mark, that's right adding another digit to the ol' counter today. Wow, now I know that ten thousand doesn't seem like much to all of you that have had hundreds of thousands or even millions of hits to your site...but hey, ten thousand is a lil' milestone to me. Now what the hell is with this heat...geezuz...we actually had s-m-o-g yesterday..smog! For christ sake this is New Brunswick...smog? I just read a news article that said it's all coming from the states...hmmm not surprising. Anyhoo...keep pushing up that counter gang...next stop...50,000!
08/14/02 (7:52 a.m. AST) Hey gang it's Wednesday, which means that this frakin' week is at least half over...sigh, 30+ degree temperatures all week and I get to spend it inside at work...dammit. Next year, when I get vacation time...booyah...a week like this and you won't see me at work. Yah right, me not work...that'll happen. Speaking of work, I have now been at my new job 3 months...guess that means they're keeping me...yay me! Has anyone been watching American Idol?? Man that Simon is a freakin' riot...I have finally figured out how to make all of my bitching and whining pay off...become a Record Producer/Music Executive!! It's a pretty good show and damn some of these kids can sing! I mean last night with a weeks practice these kids ( they are all under 22 or so) had to belt out Bert Bacharach tunes...talk about your generation gap! But they did it...and did a smashing job of it! Hey, if you get the chance check it out...it's on on Tuesday's and Wednesday's on Fox. Now enough plugs from me...it's time to get my azz off to work...have a good day...stay out of the heat...christ I'm too pleasant this morning....sigh...
08/11/02 (3:09 p.m. AST) Wooo Hoooo! I'm a free man...for one day anyway. The gilfriend had to go to Fredericton to write some provincial license exam thingy she left this morning and won't be home until tomorrow night! Yay me! Too bad I have to work tomorrow or that would have been a great 36 hours...but I still have today. Hey it's 34 degrees out, I'm on my way out and I don't have to listen to 'can we go here' or 'can we stop by my mothers'...(shudder). Women, please understand, you love your parents, we love you...that does not mean that we have to love your parents as much as you do nor does that mean that we are obligated to visit as much as you. Now not saying that I don't like my gal's family, I really do, I just don't have to go visit every day! Whew!...sorry, went off on a little tangent there. Now, what to do with my day...I'm free to do what I will, parade around the house naked, don't shower, be a general slob...or whatever the hell I want. Ahhh...relaxation...what a concept...I think it's time to go buy a big fat juicy steak, crack open a cold one and call it a day...later! (PS> Just so you know that I really am teaching myself "flash"...below is my first attempt at it!)
08/10/02 (7:25 p.m.)Just for the record, Lord of The Rings freakin' ROCKED! Also, Paul was right, the sound was incredible! The clarity...wow. If you have not seen this movie yet...what freakin' rock have you been under? Get your azz out and watch this puppy! So I have been assured via e-mail by the creators of deadbodies.org that the:

Top 100 Sexiest Women Version II

will soon be up and running. I'll keep you posted on that!
Speaking of web sites I have to give a plug to the latest contribution to the web by my friend Paul (firlotte.com)... it is all about his new paintball team, team Quackers and their official logo...

there isn't much there yet except the team members (click team) but I am assured that the frantic little 'IT-quacks' are working on it...hmmm I wonder if they're going to have scantily clad bikini type chicks promoting their web site wearing bikini's with the quackers logo...something to think about Paully.
One last thing...I want to give a shout out to Christie who is having her "_" birthday today...HAPPY B-DAY!, I refuse to state any number signifying age for fear of my own age not increasing...in other words, she'll kill me. Anyway...off to her little b-day get together tonight...should be interesting. Guess that means I have to shower...sigh, and on the weekend, doesn't seem fair somehow...later!
08/09/02 (8:20 p.m.)The Ring!...has...ARRIVED! That's right I went out and picked up my copy of Lord of The Rings tonight. I can't wait to slip this puppy into the DVD player! My friend Paul (Firlotte.com) says that this has got to be one of the B-E-S-T sounding DVD's he has ever heard....and he has the sound system to prove it, trust me, his sub is as big as my Civic. So needless to say I can't wait to slap this baby in.
On another note, it's FRIDAY, yay me! Now that I work weekdays and have the weekend off the climax that is 5:00 p.m. Friday is so much a wonderful experience. I think I'll sleep for the next two days...mmm...sleep. Anyhoo gang...off to get the gal at work then..."one ring to bind them...."
08/07/02"One Ring to rule them all, One Ring to find them, One Ring to bring them all and in the darkness bind them..."
That's right Lord Of The Rings came out yesterday on DVD and...man, I can't wait to get it. I have a copy reserved so there's no rush....well, there is a rush, I just know that I won't have time to watch it from beginning to end until at least Friday...sigh. Been working hard on learning the Flash stuff to spruce up this place a little bit...just for the record, self teaching yourself flash is not for the faint of heart. This crap is hard work, but I'll figure it out dammit. Speaking of hard work...got get off to my 'work', you know the one that pays the bills. Later.
08/01/02Well, here we are at the start of a new month....technically the last month of summer people so make it count...sigh, summer just isn't long enough. We should have a 11.5 month summer, with a week of spring and a week of fall...skip winter totally, cause we just don't need that screwed up season. Well, in my last post I commented on a complaint that I don't have enough 'content' on here...well, soon you will be seeing sonme new things...as soon as I teach myself another programming language type thing. That's right, I am venturing out of static HTML and starting to teach myself FLASH. That's right...I'm insane. But insane for all you fanatics that actually stop by here...so start looking for new 'experiments' to start showing up as I learn this stuff. Speaking of stopping by here, we are about to add yet another 'digit' to the counter up above...that's right, soon (hopefully this month), we are about to hit the 10,000 hit mark on JL.com...wow and thanx to all of you, is all I have to say...keep those hits coming. Besides, you need to come and see my new flash crap as I make it. Stay tuned for that!

July 2002

07/28/02Well, well, well...my site was dissed in the guestbook. I'm told by this individual that I am polluting cyber space..."I" am polluting cyber space...geezuz. Obviously this CH individual hasn't surfed the web lately. To CH himself...personally I don't care if you feel that my site doesn't have the 'content' that you desire...if you don't like it...don't look. I created this site as an experiment to teach myself HTML, and it just grew from there...now...almost 10,000 hits later it's still growing. There is plenty of content that I would like to place on here but I am not allowed due to the rules and regulations of my free account. My site has become a "Hub" of links and information for many as a 'jump-off' point to many that are interested in some of the same things as I am. Mr. CH...I guess it goes back to the old adage of, 'if you ain't got nothing nice to say...say nothing at all'. My final point on this is...CH...you can kiss my ass beacuse I don't like negativity and I don't need people like you looking at my site, constructive criticism I can handle and relish, negativity and slamming...here, is not needed. You sir, are an ass.
I will waist no more time on you...good day.
Now on to more of my inane minutia...
...hey, it's Sunday, the last day of my weekend...it's a nice day, started my day off with some morning 'play' time, and am now going out to enjoy the weather. Have a good day all!
07/25/02

Hey gang...wow, I'm tired...12 hour day yesterday at work and I think I'm going to have another one today...sigh. At least it's not as hot as the other day, dammit that was frying pan-burner of hell hot. I saw the coolest thing last night on the tube...I have got to get me one of THESE! The chick on the home page is hot too... :) Click on the 'products' button to see them all, these things are cool...no more rush hour and stupid local drivers for me...right up the shoulder baby yah! Now to just come up with the 1500 US bones for one...sigh, yah right. Anyhoo gang...time to hop in my current set of wheels and scoot off to work! Later!

07/23/02HOT!...that's what it is today...just freakin'...H-O-T! Currently, and remember to look at the time at the beginning of this post...it's 38C outside with the humidity. For all you Farenheit types that 100.4!!! Now I could handle 40C/100F degrees if it wasn't a "soggy" day. What I mean by that is it feels like your standing in a lukewarm shower with your clothes on. If it was a dry heat...bring it on...this humidity crap has got to go...just gotta figure out where to get mother nature's 'fone' number. Either that or come up with a genius way to reverse global warming...I'll probably have better luck getting the number...sigh. To top it off the girlfriend left the living room window open all day for the cats to look out of...ummmm honey...they have a goddamn FIR COAT on...I think they'd rather it be cool in here! Geezuz. It's so hot...but hey the Budweiser is cold...slurp! Gotta go see if there is a cool room in this house...ooops, almost left without my beer.........nope...nadda...stickyville...everywhere, thanx honey. Ironically where is she, at work til' 9:pm in an air conditioned building!!! Sigh...slurp...sip...sip...oh time to get another beer...later! (Note: this bunch of babble brought to you by my over heat fried brain).

07/22/02Wow...did that weekend go by in record time. Friday night is a blur, I can't even remember what I did...was either really boring or there was alcohol involved. Saturday, I am proud to say, was the laziest day I've had in a long time, didn't do much. Unfortunately, I had to drive the girlfriend to work for 10:00am...that's fair somehow...ummm, no! She wanted to go out Saturday night, I didn't...argued over it a bit, there was bribery involved...we stayed home. Sunday we went to the Irving Big Stop for lunch (there's the bribery) and stuffed ourselves (the big stop is a truck stop/gas station with a restaurant with great food and HUGE portions of food). That was cool, then we went to Derek & Chantal's place for a little BBQ action for supper. Thanx D & C. After that we all took off to the drive-in again and watched Scooby Doo It was hilarious! The guy playing shaggy did a great job. Trivia: Did you know who was the original voice of Shaggy on the television cartoon show?? Answer: None other than our favorite Top 40 countdown host Kasey Kasem. Scooby you could tell was all CG...but it still worked very well. The second feature at the drive-in (You get two new releases for $6...see why we go to the drive-in?) was Insomnia starring Al Pacino and Robin Williams...RW as a bad guy was just weird...but he was good at the whole psycho thing. Check out that flash web site, very sharp! Anyhoo, time for me to get my butt to work...groan...that sound was Monday morning ambition. As Bob Geldof said in that great song..."I don't like Monday's"...later!

07/19/02 Oh my god I am so happy it's Friday...I'm so freakin' tired it's unbelievable, I'm barely concious right now...never mind updating. My apologies for not updating...here's something for you...found this last night...it's a speed limit sign in Australia (so I'm told)...This is my kinda speed limit...heh. Actually it's kinda of funny because now that I think about it, that's usually where my speedometer is hovering around whenever I look down at it...hmmm...coincidence?? (Any folks from the local constabulary...please ignore that last statement) Anyhoo gang...it's time to go and get my ass to work...sigh...TGIF...TGIF....

07/15/02Well, Monday already...back to the grind...sigh. Had a pretty good weekend though...Friday after I picked up the girlfriend from work we went downtown where they had Main St. blocked off for the Alantic Nationals Hot Rod Show. Had a 'vendor' supper on the street and checked the cars out. Saturday, we hopped in my 'rod', heh, yah right....and drove to Shediac to the 'Neptune Drive-In Theater' and watched "The Bourne Identitiy". Gooooood movie, it didn't hurt that the main character's name was Jason either. Thanx to D&C it was a slice. Sunday...slept late...what a treat that was and then went for a drive, stopped in at my buddy Todd's new 'shack' and stayed for BBQ supper. Came home, got in an arguement, and went to bed...sigh women...long story. I might be babbling right now, can't tell, I'm waaaaayyyy too tired to care...if I slept an hour last night I'll be surprised...I know I saw every one, as if any one of you gives a damn...grrr. Hey, noticed over the weekend that I've almost made it to the illustrious number of ten thousand hits...that will be verrrry cool, keep on checkin' in gang and drivin' up that hit count...yes, all two of you that actually reads this drivel. Well, gang....off to work, have a great day/week!

07/14/02I really wish we didn't have to eat, shave, bathe, consume liquid (well beer's ok), none of that. We were self sustaining, hairless, smelled good all the time, and didn't need water/liquid (again, alcohol is different). Have I got you curious yet? What am I getting at you ask? Those goddamn bureaucratic asses that doing nothing but stuff their pockets on me getting the essential necessities of life. These fat cat bastards that rip me off any way they can, gouging me for every penny. Who am I referring to, what organization rips us off every chance they get?? Freakin' Grocery Stores!!!! (No names, don't need any lawsuits) Dammit, I went in there tonight to pick up 'a few things'...hrumph, yah right. $80.00 freakin' @$%#$%#% dollars later (and that's leaving some stuff in the cart) I came out holding 6 plastic bags and next to no "stuff". As I was putting it away I was asking myself over and over, "What the @#$%@$%@$%@$%@# did I just spend eighty bucks on!?!?". I didn't even go in there to buy groceries...just a 'few things'...bastards. Oh, and they got the pretty little 'perky' checkout girl distracting you so you don't notice your tally rising drastically on the cash register computer screen, she smiles and bat's an eyelash, shakes this, shifts that....and your walking out of there a whoooooole helluva lot poorer. I mean come on, $8 for 24 rolls of ass wipe?! $7 for 5 freakin' razor blades!!...geezuz...god forbid we get a lil' scruffy...seven bucks...crap! $3 for a bag of french fries...hmmm potatoes, probably the cheapest vegetable to produce and I'm getting ripped off at the cash register. Don't get me started on the sandwich meat or the chicken breast...call the cops they are robbing people blind in these places! As society prescribes today, to be accepted in the world we must not
s-t-i-n-k. Thus we must buy personal hygene products, we must wash hair, remove hair, scrub skin, remove sweat, soil, and the daily toils. Have you seen what a freakin' bar of soap cost's lately!! And I'm not talking about that cheap assed crap that you made in high school chem class either...not the stuff that dries out your skin so that you then have to go buy the 'moisturizer', the 'exfoliater' (sp), the 'way-too-expensive-chemical-gunk-being-passed-off-as-natural-to-make-you-think-your-doing-something-good-for-yourself-and-the-environment', the 'other-way-too-expensive-chemical-goop-to-clear-up-the-rash-from-the-first-chemical-goop', more 'moisturizer' because the chemical goop dried out your skin, and then back to the 'soap' again. It's a vicsious circle and I wish there was a way to beat it...ahh...we should all just plant huge gardens, and boycott the grocery stores so that their prices HAVE to come down. Oh well, off to see if there is any food or reasonable facsimile (sp) in those bags some where...all this bitching has made me hungry...sigh.

07/09/02Ok...it's summer, who ordered so much goddamn rain! We've been having thunderstorms here for about a week straight and we even had an F1 tornado touch down about 3 hours away from here!! Geezuz, a tornado in eastern canada, that's just damn strange! Well, I've said I've always wanted to 'chase' a tornado...but not in my own damn back yard! Wow I'm tired, it's 7:45 am and I'm up way too early, and am leaving for work shortly, haven't figured out if I'm cranky yet or not. I figured out last night that I can lift and carry almost 140lbs by myself, had to pick up a floor model drill press from Princess Auto for my Dad because he lives out of town, crap this thing was heavy, took me and the sales guy to get it in the back of my Civic HB. But never thought how I was going to get it out of my car...but I did get it out of the car, in the house, down the stairs, and in my storage room. Damn, that's not something I'd want to do everyday. Anyhoo, check out the Princess Auto site, they have freakin' everything there you could possibly want mechanically, and some not mechanically, so give it a look. Off to work...later!

07/07/02Hey gang! Another weekend come and gone...my apologies for not updating if anyone actually cares. Friday did the take-out food and movie rental thing...just chilled essentially. Saturday went to a local giant flea market and bought some cool stuff, got a really cool knife for a steal and some nice oriental stuff to add to my collection. Then shipped the girlfriend out Saturday night to the clubs with some girlfriends of her's...which meant, some peace and quiet for me for a few hours. Slept in today and did some laundry...you know, typical Sunday. Tonight went to Don Cherry's for supper and went to see MIB II...it was funny but think I liked the first one better. Frank the dog was funny though..."Who let the dogs out, bark bark, bark bark"...hee hee. Anyhoo gang, not much else to report, back to the grind again tomorrow. Later.

07/04/02I just want to wish a happy Independance Day to our friends south of the border...and to all my personal friends in the USA.

Happy Birthday America!
07/03/02Well, I survived...no one drowned on the trip down the Restigouche River. Yes, Paul I actually had to use the bandana...or as you called it the 'snot rag'. It came in quite handy every time you asked me to haul out the ol' 'snot rag'. Anyhoo, approximately 16 hours from beginning to end we made it. We got in Dalhousie about 10:30pm Friday to my Dad's and the next morning off to the river...a good time was had by all, except for Paul trying to kill us all paddling like a madman, and our arguement over how much of a loser Eminem is. God I hate that twit....hmmm...maybe I'll start an 'I hate eminem' page...heh, not worth the effort. Anyhoo, we were actually surprised that we did it so fast...Thanx goes out to Brent for the transportation of the canoe's! I think the major down point of the trip was when we stopped on this island to camp for the night and were completely surrounded by Frenchmen! Wow....I thought they'd moved Dieppe! Heh, moved it, got all of the people drunk and made them sing English songs...not just english songs...Eminem songs!! And poor little ol' me plunked right in the middle...sigh....my own personal hell, it was a verrrry disturbing experience....hmmm, Paul, I think i may know what made you snap all those years ago now. Anyhoo, we had a blast anyway! Then came back on Monday...I have to say happy birthday to someone special...my...COUNTRY! Happy Birthday Canada!...I wish I could do more but that's all my budget allows, I think the city of Moncton had the same budget plan when they went shopping for fireworks this year for the Canada Day fireworks. That 'sparkler' display had to be the most wasted fifteen minutes of my life. I heard people ooo-ing and ahhh-ing...people please, you would have cardiac arrest if you were impressed by those and actually saw a 'decent' fireworks display, I'm not even talking a spectacular one...geezuz that was pathetic. I guess we had some major thunder storm action here today...I never noticed...I was inside all day...but I guess the power went out in about 90% of the city today...too bad I was in the 10% that did. Dammit. Speaking of weather...holy crapola it was hot today...41C!!!....with the humidity...now that's not so bad for all you people out there that are used to that when it's a dry heat...try this...try taking a lukewarm shower with all you clothes on...pretty damn close. Anyhoo gang enough of my rantings for today...OH! Paul...can you say a complete sentence with out using the word wang? hee hee...Yes I 'wang' can! (River Joke) Later gang!

June 2002

06/28/02Ok...it's 8:30am, I really don't want to be at work, way too tired...spent the night getting stuff for my trip this weekend. Yup, that's right this weekend I am spending the next 3 days lazing down the Restigouche River in northern New Brunswick and goddamn I can't wait to get there. I hope the girlfriend has fun and doesn't drove me nuts...or drown me...it's her first real camping experience and first time in a canoe! Sigh...the things I do to myself. Plus I have to get up at an ungodly hour to me Paulfirlotte.com at his parents house to head for the river thanx to Daddy firlotte for transporting my canoe. Speaking of Paul and his woman, good luck moving into your new 'castle' today gang! I wish I could help but let's just say I'm glad I'm not there because I'm sure that it will come to blows at some point today! Well gang, that's it, got work to do and then it's off to the river...back Tuesday with a report, that is if I survive! Ciao!
06/26/02Well well, it's been a while since I've been in here...geezuz. Anyhoo, no much happening that's why I haven't been updating...but...I do have to tell everyone about the AWESOME staff party I attended on the weekend! Got picked up at home, they rented vans so no one had to drive. And drove us to our bosses cottage (nice little shack let me tell yah) and the moment I got there I went down the list, found the beer, found where to put my gear, found the toilet...went to the beach. Then went on the Sea-Doo! I had this baby up to 100kph on water! Let me tell you that is much faster than doing it in a car. Spent some time on the power boat...some time in a Kayak...then it was time for supper aaaand...Buffet style for supper with the main course being two lobsters and a steak! DA-AMN! Then out in the kayak again. They thought I drowned because I was gone so long and sent someone on a Sea-Doo to find me...they didn't know I'd been on one before. Then we drove golf balls from the hill into the river trying to hit a target...then more partying, bonfire, fireworks...drive home...almost hit a moose...home. I have a few people to thank for a great day...hmmm...
Thanx to my boss for everything
Thanx to the Sea-Doo for being so much fun
Thanx to Collette for dumping michelle off her sea-doo
Thanx to Michelle for not drowning me when I recued her from being dumped off Collette's SD
Thanx to Michelle for losing my sunglasses while dumping me off my SD...3 times!
Thanx to Linda for bringing the Kayak's
Thanx to the Kayak's for being so much fun
Thanx to ME for having the sanity not to go on the sea-biscuit and have a sore ass for two days afterwards
Thanx for the beer and to the beer for being so yummy
Thanx to the lobster and the cow for their sacrifice and my full tummy...
OK thanx...geezuz. But it ended there when I had to get up the next day and go to the girlfriend's graduation from college, don't get me wrong I'm proud of her and everything...but to sit in a stuffy conference room after the day I had the day before and listen to a ceremony that was half in FRENCH! Sacre Blue! See...fried my brain...geezuz. But I'm better now...in two days I leave for the Restigouche and three days of relaxation!!! Weee! Plus I get the thrilling entertainment of Paulfirlotte.com all weekend...should be good for a story or two! (PS>To the garbage man that was dumping the dumpster outside the bedroom window and at 4:30..."AM"!!!...Tuesday morning...I don't thank-you...I have only this to say..."#$%@#%@$%@$@$!!!") Who dumps dumpsters at 4:30am! Geezuz...have a great day!
06/18/02
First things first...a word to the wise...guys, do not...and I repeat DO NOT go to the mall with your wife/girlfriend/significant other shopping for clothes...for HER! You are surely, truly taking your life in your own hands and any happiness that you planned in the near future is out the door...trust me! There is no proper response to "Does this make me look fat?" or "Does this make my ass look big?"...if there is...no wait, there just isn't! Consider yourself warned. Dammit...the government is at it again, stopped to grab some cigarettes for the girlfriend on the way home (little stressed from shopping...yah, she's stressed)...your not going to believe this $9.00 goddamn dollars a pack!!!!!!! I've wanted to quit...but hell, talk about incentive! Christ that price stresses me out...I need a smoke...UUUUGGHH! On a happy note...thanx to Paully last night for the FTP action, got some great MP3's off him over night last night...scored some really good live Metallica, all the old school stuff! AND while I'm thanking people I have to thank Ben Applebaum and College Stories.com for these(it's a bottle opener key chain for you not so brilliant out there)...this is a cool site and you guys should check it out, guess it pays to help people promote, thanx Ben, I'll put these to good use this weekend at my staff party!!! Gotta go, cooking supper...now where's my lighter...dammit! Burn money burn...
06/16/02
Just playin' with some HTML...more later. Well, it's later. Anyhoo, Want to wish all the "Dad's" Of the world a Happy Fathers Day!! and especially to my own "pop's". Thanx for putting up with all my crap...past, present, and future! Not much to report today gang, been doin' ebay work and house cleaning like a bastard. Cat hair is nasty stuff...I don't know how two small animals can lose sooo much hair and not be BALD! Seriously...that crap is everywhere...I'm mean I was considering getting outthe spray glue and just spraying them down...problem solved...no more cat hair...sigh, but I doubt the girlfriend would be pleased when she got home from work...dammit. Oh well, been a pretty quiet weekend..."Blame It On The Rain"...as the song goes...not much happening. Can't wait to hear what Paul has to say about his vacation in Ottawa was like all this week...that should be interesting. Two more weeks and Paully and I will be hitting the Restigouche River! Can't wait for that! Gotta go gang, girlfriends gonna call for me to pick her up from work anytime...gotta go! Ciao!
06/15/02
Hey everyone! Haven't been in in a few days, been out driving around listening to my new speakers...now just want more. Anyhoo, a friend of mine just sent me an article he recieved in his e-mail written by a British newspaper columnist...being the proud Canadian that I am...I thought that I'd share it all with you:
THIS SHOULD BE REQUIRED READING IN EVERY CANADIAN SCHOOL...
This is an article written by Kevin Myers of the Daily Telegraph in Britain
It's called The Country the World Forgot.
Many thanks to the guy for recognizing us.
Many other people should read this so feel free to forward it.
Until the deaths last week of four Canadian soldiers accidentally killed by a US warplane in Afghanistan, probably almost no one outside their home country had been aware that Canadian troops were deployed in the region. And as always, Canada will now bury its dead, just as the rest of the world as always will forget its sacrifice, just as it always forgets nearly everything Canada ever does. It seems that Canada's historic mission is to come to the selfless aid both of its friends and of complete strangers, and then, once the crisis is over, to be well and truly ignored.
Canada is the perpetual wallflower that stands on the edge of the hall, waiting for someone to come and ask her for a dance. A fire breaks out, she risks life and limb to rescue her fellow dance-goers, and suffers serious injuries. But when the hall is repaired and the dancing resumes, there is Canada, the wallflower still, while those she once helped glamorously cavort across the floor, blithely neglecting her yet again.
That is the price which Canada pays for sharing the North American Continent with the US, and for being a selfless friend of Britain in two global conflicts. For much of the 20th century, Canada was torn in two different directions:
It seemed to be a part of the old world, yet had an address in the new one, and that divided identity ensured that it never fully got the gratitude it deserved. Yet its purely voluntary contribution to the cause of freedom in two world wars was perhaps the greatest of any democracy.
Almost 10 per cent of Canada's entire population of seven million people (at the time) armed forces during the First World War, and nearly 60,000 died. T he great Allied victories of 1918 were spearheaded by Canadian troops, perhaps the most capable soldiers in the entire British order of battle.
Canada was repaid for its enormous sacrifice by downright neglect, its unique contribution to victory being absorbed into the popular memory as somehow or other the work of the "British". The Second World War provided a re-run. The Canadian navy began the war with a half dozen vessels, and ended up policing nearly half of the Atlantic against U-boat attack. More than 120 Canadian warships participated in the Normandy landings, during which 15,000 Canadian soldiers went ashore on D-Day alone. Canada finished the war with the third largest navy and the fourth largest air force in the world. The world thanked Canada with the same sublime indifference as it had the previous time. Canadian participation in the war was acknowledged in film only if it was necessary to give an American actor a part in a campaign which the US had clearly not participated - a touching scrupulousness which, of course, Hollywood has since abandoned, as it has any notion of a separate Canadian identity. So it is a general rule that actors and film-makers arriving in Hollywood keep their nationality - unless, that is, they are Canadian. Thus Mary Pickford, Walter Huston, Donald Sutherland, Michael J. Fox, William Shatner, Norman Jewison, David Cronenberg and Dan Aykroyd have in the popular perception become American, and Christopher Plummer British. It is as if in the very act of becoming famous, a Canadian ceases to be Canadian, unless she is Margaret Atwood, who is as unshakeably Canadian as a moose, or Celine Dion, for whom Canada has proved quite unable to find any takers.
Moreover, Canada is every bit as querulously alert to the achievements of its sons and daughters as the rest of the world is completely unaware of them. The Canadians proudly say of themselves - and are unheard by anyone else - that 1 per cent of the world's population has provided 10 per cent of the world's peace-keeping forces. Canadian soldiers in the past half century have been the greatest peace-keepers on earth - in 39 missions on UN mandates, and six on non-UN peace-keeping duties, from Vietnam to East Timor, from Sinai to Bosnia. Yet the only foreign engagement which has entered the popular non-Canadian imagination was the sorry affair in Somalia, in which out-of-control paratroopers murdered two Somali infiltrators. Their regiment was then disbanded in disgrace - a uniquely Canadian act of self-abasement for which, naturally, the Canadians received no international credit.
So who today in the US knows about the stoic and selfless friendship its northern neighbour has given it in Afghanistan? Rather like Cyrano de Bergerac, Canada repeatedly does honourable things for honourable motives, but instead of being thanked for it, it remains something of a figure of fun. It is the Canadian way, for which Canadians should be proud, yet such honour comes at a high cost. This weekend four shrouds, red with blood and maple leaf, head homewards; and four more grieving Canadian families know that cost all too tragically well.

All I have to say is wow...have a good weekend everyone...
06/11/02
Well, there are two new things in my life today...hee hee..look here to see what I'm talking about. On my lunch break today I went to see Dave at Sounds Fantastic and got some new toys. That's right, Davey hooked me up with some new Car Audio Boom Boom! Pretty aren't they!? I got a deal I couldn't refuse...so came home and hooked those babies up...took some pic's...and now I'm goin' for a ride! Ciao!....boom boom boom...
06/10/02
Holy...two days in a row, something must be wrong...nah, just felt like I was neglecting my fans...pssshh!...fans...suuuuure. Anyhoo, not much happening, the sun is shining finally, thought I was going to have to start building an ark soon. Funny, I seem to complain a lot about crap falling out of the sky...but hey, I don't have to shovel rain! Well, didn't manage to get the estimate on the car today...don't know if that is good or bad...somehow feel it's going to be expensive. Boy sure wish I had a friend that knew how to do bodywork, might be some adult beverages involved for volunteer's...hint hint...Todd! Not much else happening gang...gotta go do some e-bay work so I'm outta here!
06/09/02
Well, the weekend didn't go by in the blink of an eye, but close enough. Piss me off, I spent about four hours cleaning my car on Saturday...you name it...vacumming, cleaned the carpets, upholstery, exterior, wheels, put in new fog light bulbs...then...thunderstorms all day Sunday...dammit. Ahh well, at least the inside stayed clean...sigh. Shout out to Paul and Cynthia (firlotte.com), they left for vacation for a week in Ottawa, hope that is going well...wish I was there drinkin' some suds with yah Paully! Speakin' of my car, going to get an estimate on the body work that I need done on my lunch break tomorrow, THAT should be fun. Then Tuesday gotta go see my buddy Dave at 'Sounds Fantastic' to see what he can hook me up with for some car audio. I know I've been hooked on Home Audio for a while, but my focus changes in the summer when I spend more time in my car. I blew one of my door speakers on the weekend, hey they were the original speakers, and my car is 12 years old...it was time for them to kick the proverbial bucket. Dave, hook me up buddy! I want to be thumpin' to the beach real soon. Congrats goin' out to Lennox Lewis on beatin' that whinin' twit Tyson on Saturday...didn't get to watch the fight but can't wait to see it. Didn't get to hook up pic's of the new entertainment center this weekend, spent too much time cleaning the car...sigh, maybe next weekend. Not much more happening gang, gotta go to bed soon, it's almost midnight and the 'workin' man has gotta hit the grind in the morning! Later gang!
06/07/02
Wow, I 've been neglecting all of you degenerates my pearls of speech and bitching all week...deal with it...I worked 14 hours Monday and 14 hours Tuesday...so...deal with it. But on a better note...its FRIDAY! The weekend is finally upon us and hopefully this one doesn't go by in the blink of an eye! Not much new, but hopefully sometime this weekend I am going to post pics of the beginnings of the new entertainment center that I am working on, not that you care, but hey it gives you something to brighten your miserable existence while reading this cheery and melodious site. And no 'D' I am not being cranky boy today...far from it...you'll know it when that happens, as you well know. Well, tday marks three weeks that I have been at my new job...it's going well, but God am I tired...yes, I am actually working for a living...shut up people, you know who you are. Anyhoo, got things to do, I leave you with a cool site that Paul had a link to today...check out the Whose Boobs Game...it's a riot. It's called Liquid Generation.
06/02/02
It wasn't until 1972 -- with all of North America already celebrating the day despite its unofficial status -- that President Richard Nixon signed a congressional resolution establishing Father's Day as a national holiday on the third Sunday in June each year. The red or white rose is recognized as the official Father's Day flower.
Who would have thought that it wasn't until 1972...hmmm. Well, we are into June, the start of the month that marks we are half way through this year, and also the month that we celebrate the guys that put up with all of our crap for sooooo many years...that's right...dear ol' DAD. Well, my friends, not much to chat about today...it's already Sunday, my weekend is flying by in the blink of an eye and I am still recovering from the busy week I just had. Oh well, back to the grind tomorrow...sigh...oh well. Have a good, rest of, the weekend gang!

May 2002

05/31/02
Holy cow the end of May! Already?! Sorry I haven't been in gang, it's been a hectic week. Some good news, scored my canoe for our little trip down the Restigouche River on Canada Day weekend. TGIF...man it's been a long week, I'm tired, and I'm waitin' for the steaks to come off the BBQ...woo hoo. Hey scored some stuff from work that was going to the scrap heap and made myself a nifty little entertainment center today...still a work in progress...pics to follow. Any hoo...I smell BBQ steak...woo hoo! :)
05/28/02
Well, it looks like it might actually be a nice day today...even though they are calling for thunder showers this afternoon, it is going to be 25C today...just how I like it well, almost, 30C would be better.
I want to take this oportunity to wish Paul of www.firlotte.com a very Happy Birthday!!!. What now Paul? 29?
Ciao gang gotta get to work!
05/25/02
Well as you can see some things have been moved around in here but enough with that...it's Saturday, I'm off, the sun is shining...I think I'll go back to bed. Hey, I can skip this day, I have two days off in a row now. Might go hit a bucket of golf balls with Derek some time today...now if I can just remember where I put my golf clubs last fall...hmmmmm. Wow, it's only 9:30am, I'm up way too early for a Saturday that I'm off..."slurp"...but the 'Tims' is helping immensely. Yes, bed is looking good til about noon. Why am I up this early...had to drive the girlfriend to work...she still works on Saturday. We're almost out of May, and it's still not nice enough for me yet...bring on those 30C days baby, yah! I love heat...man, do I live in the wrong part of the world... Anyway gang, I just read back over what I just typed...I'm starting to babble...time to go!
05/24/02
First things first...due to circumstances that have been brought to my attention earlier in the day, which I completely agree with...some things with this site have changed. A page has been removed as have other various links to material that was of a 'sensitive' nature. In regards to individuals and organizations that to any offence has occurred or 'toes stepped on', please at this time accept apologies and may said instances be put aside. It was of no cognitive intent of this site to offend, influence, demean, or derogatize any individual(s) or organization. Nor was it of any intent to cause harm, whether physical or financial, to any individual(s) or organization. Hopefully with said changes being made any negative influence in the past or future has been allayed. Thank-you and I hope all continue to enjoy this site in it's entirety from now on.
Second, it's Friday...I have two days off...and I'm going to enjoy them!
05/22/02
Man...I just got home from work...and it's 8:45p.m.! Put in a 12 hour day today and in the last two days I have moved the equivalant of about 1700lbs by hand...by myself...ohhh, my sacrailiac! Oh, well, no biggie...I get supper bought for me when I work late so it's all good...learned some new stuff today too. Not much else is new other than that...didn't have time for anything else to happen today...I do want to bitch about one thing though: The goddamn Toronto Maple Leafs! The only Canadian team left and these bozo's are gonna choke! I know it...I can feel it...these dimwhit's shouldn't even be there...Ottawa would have been better...Montreal definately would have been better!...hell even Calgary...anybody but T.O.! It figures that they are the only players I have left in my hockey pool...no I refuse to say Go L***s Go...can't even type it...anyhoo gotta go...I'm getting the cold shoulder from the significant other...don't know why...not sure if I want to find out...sigh...I'm going in!!!
05/21/02
Wow, can tell I was down and out last week...I haven't updated in 6 days...geezuz. Well, I'm updating because this is the first time in a week since spending the night in the hospital that I have even been able to think...damn...imagine having a blinding headache for a week straight...not fun...nooo, not fun. Well the first week of my new job came and went, the people are super, a very friendly group that are easy to work with...kudos to them for bearing with the 'new guy'. What was really strange was walking out of there Friday and realizing that I had...THREE DAYS OFF!! The last time I had three days off...in a row?...hmmm...I literally cannot remember. Man, I haven't had my headache all day today...God I hope that is the end of that agony...I would not wish that pain on anyone...picture this: Put your head in a vise and have someone slowly crank it shut, then have a pulsing time bomb that feels like you head is about to explode, then have stabbing and burning pain shooting out from directly behind both eyes, then throw in a little nausea / dizziness and overall body ache and that about summs up how I was feeling all week. BUT...I still went to work...god I'm dedicated (greedy). Thanx to Derek and Chantal for the BBQ yesterday, it was nice to chill...man, I slept like all day Saturday...I haven't done that in years...but now that I'm working Mon.-Fri. perhaps I could do that more often...sigh. Well, I'm back...you'll know that if I don't update for a few days that my head has decided to rebel on me again...later.
05/15/02
Well, it's been an interesting few days..Monday was pretty relaxing and I went to bed at about 11:45, because I started my new job the next morning. I had a bit of a headache but figured I'd sleep it off...boy was I wrong. I woke up about 1:30 am in, for lack of better word...agony! My head felt like it was in a vise and it was going to explode at the same time. Finally I couldn't bear it anymore and went to the hospital...laying there in pain I finally got given some drugs...mm hospital drugs...the good stuff. So as I lay there nodding off from the good stuff...they took me for a CAT Scan. That came back clear...next came the fun part...a Spinal Tap...fun...ummm NO. I left the hospital at 8:15am the next morning...I was supposed to start my new job at 8:30am...needless to say I didn't make it. But being the trooper that I am... I went in at noon. Then today, I had my first full day, and then some...I ended up working 12.5 hours today. Now I'm beat and going to bed...more tomorrow. "ZZZZZ"
05/11/02
Today was my last day at Rogers AT&T. I've worked there for the last three years, and it felt a little weird walking out for the last time. I want to thank Ric Duguay for being the best boss that I have worked for to date, and more than that for being a friend...it was a pleasure. Au revoir mon ami!
Now it's on to Monday-Friday workin' 8:30am-5:pm...hmmm whatever shall I do (sarcasm). I think that Parlee Beach might see a lot more of me this summer. Seeing as I won't be seeing the 'sights' at the mall anymore, I guess I'll have to see them at the beach...oh darn. Plus there is the trip that Paul and I and our girlfriends have to do a little of THIS, this summer on the Restigouche River in northern New Brunswick on the border of Quebec, in the Canada Day weekend area. There might even be a little time for some of THIS this summer. Plus I plan on getting a little use out of my new Coleman TENTthis summer...sigh, whatever am I gonna do.
05/10/02
Well ok, the Canadians lost last night, I don't want to talk about it...the idiots gave up a 3 goal lead to lose 4-3...sigh...everyone has a bad game right? God I'm tired today...don't know why, wasn't up late, maybe I'll go back to bed...hmmm, Yah that's what I'm going to do...but first:
I want to congratulate Paul (firlotte.com) & Cynthia on the purchase of their new House!
The only downfall is now you two have made my life hell...now my girlfriend will on a dailly basis remind me that we are virtually the only couple we know that are still RENTING. Dammit. Sigh, someday I might stop complaining about paying someone else's mortgage and have the honour of complaining about having to pay my own...hmmm Lottery is at 24 Million today...hmmmm.
05/08/02



Overtime winners! Only two more games to win and the Habs are in the Eastern Conference Finals! Thanx to Donald Audette the Canadians won in the extra frame last night...phew, it was a nail biter...of course they scored the winner the minute I left the room to get a drink, dammit. But hey they won...good thing...two more boys only six more games and you could be in the Stanley Cup finals! Not much to say today, it's nice out, it's my day off and I'm going to go enjoy some of it instead of staying in front of the computer. Hey Paul, that A5 looks great! I want! Later gang!
05/07/02
Ok...first off, all that I have to say is that

ROCKS!!!
That had to be simply THE best movie adaptation of a comic book I have seen to date. They followed the story almost to a 'T', the action was phenomenal, the costumes were perfect, Dafoe made a great 'Goblin', and Kirsten Dunst was...heh, HOT (especially in the rainy scene...all wet...heh) If you haven't seen this movie yet, haul your lazy ass off the couch and go! It is worth the exorbitant movie prices! Not much more to report today...three more days left at Rogers, after tomorrow, which is my day off. Maybe when I start my new job I can afford to have Molly Maid come into my house and clean it...yes Derek that is a dig at you...lazy ass.
Anyhoo, not much else happening today...watching the Habs play the Hurricanes right now...GO HABS GO!
05/06/02
Monday, roll outta bed, sore legs, sore arms, cuts on my hands, scratch on my forehead, sunburned...and worth every goddamn minute of it because that was the result of playing Paintball all day yesterday. Man what a blast...we got our asses handed to us royally all day long...but I did get to see paulfirlotte.com take a couple shots to the head...cool. Thanx for including me Paully! Holy Crap...114 Million Dollars! What the lottery? No...that's how much money the


movie raked in THIS WEEKEND!! My Christ it took Harry Potter almost a full week to do that (5 days) That's phenomenal...will be seeing the movie over the next two days... Oh yah...The habs won last night! Wooo! Sorry just had to get that in there...talk to you later gang!
05/04/02
So I went to VooDoo last night after work to get my shirt that I had won and much to my pleasure to discover, I had also won a $25 bar tab! Yay me! So I got to get some free 'drink-o-hol'and this beautiful
Authentic Team Canada Olympic Hockey Jersey!
My friend Gerard came over and took all of the 'spyware' garbage out of my computer and downloaded a program for me that allows me to check for all of that crap myself. Imagine that, everytime that your online...there is a little piece of software that has been place on your hard drive that you picked up somewhere that was embedded on some site...that sends information about anything it can get it's grubby little bytes on in your computer...it sends this information on to whomever put the ignorant little software there in the first place. Christ, I know I don't work for CSIS or the CIA or anything, but what's mine is mine...and stay the hell out! Bastards...stay outta my shit! Damn that pisses me off...for those of you that want this crap out of your computer...the software is called "Ad-aware". Get it...run it...and see how many 'spy' programs are already on your computer...I've only had this thing 4 months and I had a dozen or so...they're gone now...bastards. Hey! Tomorrow is Paintball day! Woo Hoo! The only downfall is that I have to meet Paul at 8:30 in the freakin' morning...geezuz. But hey, I get to blast the begeezuz out of people all day!
Man, I almsot seem in a good mood today, that couldn't be happening could it? Nah...well, it is sunny...and it's supposed to be 17C tomorrow...and Monday...and Tuesday...well, maybe I'm in a little bit of a good mood. Warm weather goooooood. Well, gang I've rambled enough for today...oh and you spy bastards...stay the hellout of my ****!
05/03/02
So I'm driving back from dropping off my girlfriend at college this morning and listening to K 94.5 as usual, Scotty is being his usual asanine self, and they go on location to one of the bars. I hear that at Voodoo they are having a contest. Paul Thomas (announcer) says that a person gets three shots on goal, you score two goals on Colin McKay (announcer) and you win. So, I just happened to be at the moment at the intersection of the street that would take me right to this bar and the contest so,..."what the hell", I say. So, in I go and there is the set up on the dance floor. Here's Colin, standing in front of what has to be the smallest street hockey net they could find. Now, that's no big deal, but Colin has on the biggest set of regulation equipment that they could find. So, I watch two other people attempt to score in this thimble of a net to no avail. Colin proceeds to begin to brag that no one has scored on him and that he can stop anyone! Heh, anyone?! They ask me if I want to try...again...what the hell. (At this point I notice that Colin is not moving very quickly in his oversized gear) So I get a practice shot...score!...5-hole (between the legs for you non-hockey people) "I knew that would be my weak spot", said Colin. (Shouldn't have told me that) On my first 'counting shot' I go to the left instead of the right like the first time...score! Second shot, back to the right...no goal...one more shot. On my third shot, back to the right...5-hole...it's through...Colin gets a piece of it...trickling towards the line...Colin dives...too late it's in the net! So far, I was the only one who scored on him! Ten minutes left in the contest...so I leave and frantically listen to the radio station all the way home. Turn on the radio when I get home...I WON! I am the proud new owner of an authentic
Team Canada Olympic Hockey Jersey! I pic it up later at the radio station...I'll post pics tomorrow of my prize...good way to start the day.
05/01/02
Welcome to the month of May! The month that we celibrate the existence of the those wonderful ladies that put up with all of our crap! MOM. Well gang keep the hits coming...we've passed the 6000 mark and are gaining steam! Hey, we might make the 10K mark by mid-year instead of the projected year's end. Would it be hoping for too much to make it to 20K by the end of the year? Tonight starts round two of the Stanley Cup Playoffs and unfortunately my hockey pool is screwed...still have my Canadians to cheer for, they are not playing tonight though, so no hockey tonight...I hope San Jose and Colorado cream each other

April 2002

04/29/02
Holy ow...The Canadians beat Boston out of the first round!!! Well, my hockey pool is sucking I played some long shot's this year and, well, they didn't play long! But hey, at least I can cheer for the habs, during the second round anyway. Man, I know I typed earlier in this line that it was the 30th of April, so, who the hell ordered all of this snow?!? Man, the end of April and it's starting to resemble more like January out there! I refuse to shovel it though, my little Civic can go through almost anything, so 6-8 inches of snow ain't gonna bother it. Anything else before I move onto the big news...hmmm, I'm tired, cranky, usual stuff, aww hell ok....on to the good news! Finally almost three years to the day after I started at my current job...I get to get out of the mall! That's right folks no more retail for me, no more screwed up hours, no more Sunday shopping debates, no more Christmas Chaos. Monday-Friday, yes that's right, Monday-Friday...8:30am-5:00pm...sigh...no nights, no weekends. Oh my! Benefits, bonus's and more...I signed my contract yesterday and began the training process. Woo Hooooo nor more MALL!!! Now the only downfall of not being in the mall, that's right your guessed it, the hotties. But hey, I'm off on the weekends...I get to spend more time at the beach! YES!...more to come gang stay tuned! OH!...some of you may have noticed that the 'female' section of my home page has been altered a bit, well, 'big brother' has informed me that 'nudity' is not permitted here, nor 'links' to it. So seeing as how I'm too cheap to actually "pay" for server space, I guess I have to follow the rules...sigh. But don't worry, there will still be hotties on here! :)
04/28/02
Wow, I haven't been in here all week...and we're almost up to 6000 hits...amazing. I wanted to hit 10K by the end of the year...we might do that by June, heh, maybe we will hit 20K by the end of the year...THAT would be very cool! Well, it's been a busy week, that's why I haven't updated lately. Did anyone see that hit on Richard Zednik of the Canadians the other night? Wow. I'm not going to rant too much about that because I could use up all my free space. Besides Montreal won the next game and could finish off Boston tomorrow night...Go Habs Go! I've added a few more links this week while I got a moment to drop in...check those out. Dammit, my freakin' muffler fell off my car today...crap...off to the mechanic tomorrow...sigh. Well, gang, I have some big news to pass on...but I have to wait until tomorrow...until it's official...do stay tuned for that! Anyhoo, the hockey game is on...gotta go!
04/22/02
Monday...sigh, I wish this day would just stop happening...gotta put my tech department to work on that...wait, I don't have a tech deptartment...note to self: get a tech department. Well gang just want to say happy Earth Day!. Yes it's that day that we all say we want to save the planet but then don't actually go out and do anything about it. So all you Monctonian's go make some phone calls and get them to blow up the causeway and get them to fix the Peticodiac River. The rest of you, take your bike to work instead of your car, plant a tree or buy a plant or something...just do something! That's my PSA (Public Service Announcement) for today, sign the guestbook, I'm outta here!
04/21/02
Well, hey gang just got back from Paul's place we went out in his back yard being somewhat destructive, yes that's right Paintball! We had to get in some target practice for next Sunday when we go to Combat Zone and go to war! Should be fun. I know after snapping off a feww hundred shots this afternoon I'm jacked more than I was before! Woo! Anyhoo gang, it's Sunday, I'm feeling lazy...but I will tell you, before I go I added a new 'friend' link to the column on the left. Check out my new friend Robin's site! As Paul would say...Dizzaamn!
04/20/02
Holy crap I'm in sixth place in the hockey pool! Woo hoo! (Probably won't last but I can enjoy it for now) Not much happening today gang but I had to share something that Paul sent me last night on ICQ...this is hilarious...I think I knew a guy like this once...Redneck Neighbour Anyhoo gang that's it for today!
04/19/02
Woo Hoo! Montreal beat the tar out of Boston last night! Boy did that ever help my hockey pool standing...tied me for 13th out of 40. Ok...I just read something a little disturbing on Paul's site...sigh, his girlfriend offered to buy him a Land Rover. Somehow that is just wrong. Cynthia, haven't you realized yet that buying Paul's toys (large ones at that) does not make him stop whining, it only abates the whining until he discovers a new 'toy' that he wants. Also, do you not realize that the new toy is ALWAYS bigger and more expensive than the last one! So you buy him a Land Rover (silly girl), so what's next a Hummer(Don't get any ideas Paul). Hey Cynthia, if your feeling that generous wanna fork out for two of those LR's??? Now, for those of you out there in web world that are saying 'he's just jealous'...Damn Freakin' Skippy I'm Jealous!...wouldn't you be...sigh.
04/18/02
Holy...I haven't updated in three days...geezuz, felt like 24hrs...man! Well, I got my players picked in my hockey pool...good time was had by all Monday night...food, beer, stress, excitement, grief...result: your team is picked. Too bad the bastards I picked, last night, only got me ONE freakin' point! Ahh well, mes habitant a jouer ce soir, so hopefully they will get me some points. Well, we are fast approaching May 5...yes the day I go get blasted with Paintballs...can't wait! Boy is that ever gonna be a stress release there...I get to blast the crap out of someone and the neat thing is...they expect me to! hee hee. Anyhoo gang...got a ton of work to do...have a good day and...GO HABS GO!!
04/15/02
It's HOCKEY POOL DAY! That's right it's that time of year again where I try and improve on my Top 5 finish last year and go for it all (Side Note: Don't have a freakin' clue who to pick this year!), 30-40 guys sit around in a bar and have a draft, they draft about 15 players to their team, and whatever points that player gets is the points that you get. The object is to hang on to your players through as many rounds of the NHL Playoffs as possible. In honour of today's events, I was up wayyy too late last night doing a little moving in the left hand column. I pushed the ladies down a little bit (deal with it) and brought the sports up. I added in links to all 6 Canadian NHL teams (condolences to Edmonton & Calgary for not making the dance this year). I also added Raptors & Jays links...but we won't talk about them yet...cause it's Hockey Pool day! I also added a hilarious link at the bottom called 'College Stories'...wow some of these are funny and amazing these people didn't end up in jail. Plus I added a link for all you paint-heads to grab some new gear at 'Paintball Mayhem' (Yes Paul, I know, May 5...I can't wait either). Any hoo gang, I gotta go stress myself out now, (I even switched my day off for this) I gotta go figure out what my picks are...YAY...It's Hockey Pool Day!
Note: Congratulations go out to Don, Christie, & the boys for success on purchasing their first home on the weekend...way to go!
04/12/02
Holy Crap! I just noticed...this site has gone over 5000 hits! That's amazing...I know compared to some that's nothing...but for my little ol' site, with my blathering's on here...wow. Another great day out today...unfortunately I won't see any of it...working...sigh... god I hope that I get that new job. Anyhoo gang, five more days to the hockey playoffs, 3 to the hockey pool pickings...hopefully this year I improve on my 5th place finish over last year (out of 35 people)...problem is with the playoff race the way it is right now...don't have a freakin' clue who to pick! Well, anyway, enough blathering for today...keep the hits coming!
04/11/02
Wow...I'm actually having a reasonably good day today...got to sleep in an extra three hours...got some eBay shipping done...got a line on a potential job that could actually get me out of this hell hole and maybe even make me more money and have benefits and everything, AND it's Monday to Friday, can you say wow! That's enough to put me in a good mood (yes an increase in the size of my pocket book can do that), but to top it off it's a beautiful warm sunny day outside...sigh, and I just read over at deadbodies.org that the new 'sexiest 100' will be commencing in the next few days! The hockey pool/playoffs start in less than a week...God, if I make some money at work, have some fast food and liquor, and top it off with some sex...this could end up being a really good day!
04/10/02
Woo Hoo! The Canadians made the playoffs!!! It was wicked last night to watch the 'Habs' clinch their first playoff spot in four years! To top it off was even better to watch their Captain Saku Koivu return to the line-up only 7 months ater being diagnosed with abdominal cancer!


He stepped onto the ice and was given an 8 minute standing ovation...deserving I think, all things considered...considering back in September they didn't know if the guy was going to live or die. Puts things in perspective a little bit doesn't it...make some of the stuff that we deal with on a daily basis seem a little trivial...ah well, all I can say is Welcome back Saku...and...GO HABS GO!! Playoffs start April 17...and so does my Hockey Pool!
04/09/02
Oh my God they're killing 'Kenny' for good...You Bastards! That's right folks I heard on the radio that the genius's at Southpark are going to kill Kenny one last time...and keep him dead. That's brilliant guys...kill off probably the second most popular character on the show (behind Cartman) to be replaced with 'Butters'...geezuz...if it ain't broke, don't fix it! Here's my vote...BOOOOO! Well, tomorrow could prove to be a good day, on the radio this morning I heard that NB Liqour is having a big BOOZE SALE! That's right, they are selling off stock at lowered prices to make room for new stock, I went last year...wow. Hey, lucky me...tomorrow just happens to be my day off!
04/08/02
Well, I survived another weekend and feel more exhausted than when I started...how the hell does that happen anyway? Well, the boiler is fixed, or should I say, replaced. Damn repairmen, idiots, left a disaster of a mess in the laundry room where the boiler is...sigh, great, more cleaning. My apologies for not posting in a few days, I took the weekend off, I deserve it...deal with it. Just read on Paul's site that Kylie Minogue turned down 2.8 Million dollars to pose for www.playboy.com>. What a shame, that would have been enough to get me to start collecting again. Well, that's it for today, it's going to be a long week again I think...not enough hours in the day...gotta go clean, hmmm...to hell with it...I need a nap. Ciao!
04/04/02
Pray you never have to put up with an exploding hot water boiler, and a used kitty litter box...long story...and a messy one. A hot water boiler when it explodes...can reeeeealy scare the crap out of a person. (Note: My apartment is heated by a hot water boiler) It can really scare the crap out of a person especially when that person is standing right beside (3-4 feet away) the hot water boiler when it desides to go boom boom. You wanna see two cats run down a hallway at mach 3 when a hot water boiler goes boom...wow. Repairman comes, fixes, 3 hours later...BOOM! Nerves quite shot. Repairman coming again in morning...sigh...hope he fixes it this time.

04/03/02
Not enough hour's in the day...ever heard that expression?...well, it's freakin' true! Only a quick blurb here today gang I'm running around like a chicken with my head cut off...busy,busy,busy...christ and it's my day off too, why won't the world stop for and hour so I can get off. Life should be like a subway, you can take this train, or maybe let it pass and just sit, relax, and watch the world go by...knowing, there is always another train coming.
04/02/02
What? No more long weekend...sigh...that sucks...oh well, I blinked and Monday disappeared so that's a good thing. The only downfall of Monday going by so quickly is it means Tuesday, my dayshift, uuughh...god I hate mornings. So, here I am, on my dayshift...god, by the time I get done here, picking up my goods for Ebay and get done working at home, this should turn into about a 14 hr day...yay me. Well, luckily I survived yet another April Fool's with no major incidents...thank god! Well, Paul of 'firlotte.com' has convinced me to advance out to the Paintball field for a glorious battle on May 5/02. It has something to do with a grudge match, testosterone levels will be high...and if May 6 there is no post here it's because I'm either crippled or too sore to make my muscles function adequately enough to get me from my bed to the keyboard. I'll keep you posted! Ciao!

04/01/02
Well gang, happy fools day and such...so far I've been lucky and no one has attempted to get me, the girlfriend and I made a deal last night that we wouldn't play any jokes on each other. As you can see I've moved some of the March posts to the 'History' page...now that we've moved into April. I've added some more links on the left to keep you entertained, and I'm busy as a bee trying to find interesting things for you to add on here. I'm still trying to get some Canadian Hotties to send me links to their web pages so I can start a Canadian Hotties page...maybe we'll get that going in April, maybe we'll branch out from there and have a world hotties page...but I'm startin' local first. Anyhoo gang...more work to do...ladies send in those links...let's show the world how hot the women are in Canada! Ciao!


March 2002
03/31/02
Well...now that the little dwarf with the hammer inside my head has taken his coffee break, diligant little fellow, but give me a break. Last night started out with the girlfriend bringing home this little hottie that is a co-worker of hers to go out with us. So I got to sit in front of the tube, drinking a beer and watching this little hardbody run up and down the hall getting ready...sigh. Then we went to the bar and did the usual bar things...then I had to drive this little hotty home...needless to say it was a lot farther than she told me it was to convince me to drive her! So at 2:15 am I'm trucking down the highway in fog that makes London look sunny and clear! Then I'm on the way home from booneyville and thinking about getting home and getting me some when the girlfriend has a '...pull the car over mmmph!' episode...sigh...told her not to drink coolers...so much for me getting some. So I do the drive through window at BK and head home. So a good time was had...no sex...but hey...the head wasn't as bad as I thought it was going to be. Don't forget...tomorrow is April 1 / 2002...April Fool's! Guarandamnteed someone will get me tomorrow...they always do...I'm too friggin' gullible. For that reason...I refuse to communicate with Paul at all today...Good Luck everyone! Ciao! "thump thump thump" Dammit the dwarf came back...coffee break must be over...anyone seen my Advil?

03/30/02
Night on the town...report tomorrow...mmmm beeeeeeer!

03/29/02
Well, not much happening today...it's a hangover day...feel better than I thought that I was going too...what with the amount of beverages consumed at the Rockin' Rodeo last night. Man, I'll tell you there were a hell of a lot of gooooood looking hotties there last night, good thing the girlfriend was with me last night...that had the potential for trouble to occur! Damn, there was some fine specemines of female anatomy in that room last night...y-uuuuuu-my! Anyhoo, added a few more things on the sidebar in the past few days...for all you fellow wrestling fans a link to the WWF site (even though this whole 'draft' thing really bites!)...and there's a new link to a site that helps you learn to play guitar. But anyway gang, staring at this computer screen does not seem to be helping my head any soooo...I'm outta here! Don't forget, voting starts for the 100 Sexiest Women tomorrow! Yay! L8ter!

03/28/02
Ok, yesterday I told you about the hot lawyer getting chastised for the way she looks...well the hot topic on radio and print today (even though the lawyer thing was front page news again today) There is a guy in Ontario, there's gotta be something in the water up there, that wanted to set a world record...sooo what did he do? He stuck 420 NEEDLES through the skin of both of his arms...if that's not bad enough...he did this to beat the record of 301 needles, in my opinion that's 118 needles too many to beat the record...one was all it takes, 118? Hey, don't get me wrong, I'm not squeamish about needles at all...but the potential of having 420 small sharp metal objects stuck into my body makes me find somewhere to make myself scarce...quickly! Click here to read about more useless facts & freaks Ciao for today gang!

03/27/02
How is it that a person can be busier on their day off than if they were at work...not enough hours in the day...maybe that's why I can't get any sleep. Read this bizarre article in the paper today...there's this lawyer in Ontario who got kicked out of court there for being inappropriately attired for the court room, the judge said that she felt this young lady...who is quite the looker I might add...the judge, who is an ugly old hag...the judge says she will not hear this lady's cases until she decides to dress in an more apprriate fashion. Holy Christ, talk about the abuse of power...just because the lawyer looks better on her worst day than the judge does on her best... Speaking of good looking women, we're only three days away from the begining of the voting for the 2002 Sexiest 100 (See left) the official vote casting begins March 30. Ciao gang!

03/26/02
Oh my God I was bitch ass busy at work today...when I got there people were waiting for a me...and I went non-stop from there. So, if this post today makes absolutely no sense, please bare with me..I'm exhausted. Not much to report today, Derek finally got everything up and running with his internet and signed my guestbook, welcome my friend...I need a nap...Paul babbled something on his web page something about getting a new cell phone today...I need a drink...and he didn't get it from me, hmmmm...drink first, then a nap...put up some new music links on the left today...hmmm food, then drink then nap...still waiting for more gorgeous ladies to send me links to add to their sites on here, come on gals, hey if girls from other countries want to send me links I'll start a foreign visitors section!!...food, drink, nap, drink...man whatta day sorry if this made no sense...food, drink, nap, drink, sex! There's a plan. Ciao!...sigh.

03/25/02
Monday, you should be able to call a "Mulligan" on this day and just skip it. Like Sir Bob Geldof said, "I Don't Like Monday's"! Well, the weekend came and went uneventfully, as usual, hmmm...I need to go on an alcoholic tear some night soon...I'm teetering on the brink of insanity right now...I just don't have time for the nervous breakdown I deserve! Nothing a good hangover won't cure! Hey, any of you gorgeous Canadian ladies out there that have websites that would like to have a link from here to there (see Gonzuela's Link on the left)...drop me a note and I'll set it up! Anyhoo gang, check out the Ebay auctions, sign the guestbook...I need coffee...I need to get my second eye open, it's hard to type with only one eye open...mmmm nervous breakdown...sigh, if I only had time.

03/24/02
Not much happening today gang...my computer was kidnapped by my girlfriend and her mom...they were working on Ebay all evening so I couldn't get in here. Now, it is really late and I am really tired and I've got a long day tomorrow...will post more tomorrow but I will leave you with the link that Paul sent me today...I think he was trying to tell me something...Click Here Ciao!

03/23/02
Well hey gang...I wasn't going to update today...wasn't in the mood but then after I came to work I found something that I had to add on here. In the mall that I work, today they have an organization here respresenting what they do that might interest some of you. What this organization does is places former racing Greyhound Dogs in loving homes after they have retired from racing in the US. Now I never thought that I would like a Greyhound...but I have to say that these dogs are gorgeous. AND...you want to talk about well behaved!? Most dogs if you had them on display would be freaking in a mall on a busy Saturday afternoon...not the 8 dogs they have with them today...I was there for about 15 mins and never even heard one bark! Amazing. These dogs are available for adoption because once they are done racing at about 2-3, if they are not adopted, they are put down...these dogs can live to be 15! I won't ramble anymore but please check out the link that I've added to the organization's web site on the left (GPAC) hey, perhaps you'll welcome one of these dogs into your home! Anyhoo gang, that is my public service announcement for today, please sign the guestbook, and check out my ebay auctions while your here...have a great weekend! :)

03/22/02
Hey gang...finally got all shovelled out from the crap we go dumped on us yesterday. Ok, I was just reading the paper and had to pass this along. There is a guy out west that is against the new canadian gun registration laws, well this one gentleman didn't quite agree with the whole idea, so devised a smartass response (I'm almost surprised Paul didn't try this). He went ahead and registered his good old Black & Decker...That's right...he registered his "soldering gun"!! Pure Genious in my humble opinion. What's even more surprising about this is they sent him a registration card for his 'weapon' that had the make name as Black & Decker / Weller. HA HA...problem is now the government is contemplating "charging" him and the penalty...\\$2000 and up to 6 months in jail! Geezuz...that just proves that the government can't take a joke...they are "seriously" thinking about charging this guy. I think it's a joke that they are thinking about charging him...sure fine him, slap him on the wrist, hell kick him in the ass...but Jail?! Geezuz. Anyhoo, if I hear anymore about the results of this I'll let you know.Have a good day gang...oh and Paul...I signed your damn petition...!

03/21/02
Well, so much for the first freakin' day of Spring! Yesterday, I was outside in a sweatshirt...today...I woke up to a FOOT of snow everywhere! Winter..."you go to hell...you go to hell and you die"! Crap, I actually had to shovel, don't even want to mention how many idiots there were on the roads this morning. Will the insanity ever end!? Speaking of insanity...Paul of www.firlotte.com is still in the land of the living! Much to the chagrin of many, and to the grief of the medical community that had to put up with him. Welcome back Paul, oddly enough you were missed! Thanx to Gonzuela for the link to my site on her web page...much appreciated!

03/20/02
Well, hey gang what's up...it's one of my favorite days of the year...what day you ask...why the first day of SPRING of course! The irony there is that they're calling for 10cm of snow tonight...old man winter doesn't want to let go just yet...but I can still say it's Spring so that makes me happy...it means this cold crap is almost over! Sold my first item on Ebay last night! Yay me. As you can see I've been doing some 'spring cleaning' around here, I added sections to the 'logo links' on the left, brought the real-time clock up from the bottom to the top of the page, and added a link to my friend Gonzuela's page too! She's a local beauty and I think that you guys will enjoy her site! Note: Any more local gal's with web site type things drop me a note and if it meets the rigorous standards of jasonlorette.com it will be added!! Well, Paul of www.firlotte.com has been M.I.A for days now, reports have been flowing in that he's been kidnapped by a special interest group that is against everything that he stands for and that he has been admitted to therapy and that a team of psychoanalysts are hard at work trying to discover the problem. More reports as I get them! Anyhoo gang that's it for today! Ciao!

03/19/02
Well, I've kinda been distracted from updating the last few days...but still managed to do it. I've been helping my friend Don get his site up and running...sigh. I've also been working on listing items for auction on Ebay, and that can take time. But I'm back and I'm going to be adding a few things today so watch for them...and sign the guestbook!

03/18/02
Ok, what the hell is up with that little shelf thingy that they've recently added to the counter at your local


I was just standing in line alone (yet another odd occurence) and there was one lady behind the counter to serve me. Now I ordered my coffee and she stepped to the side, to the pots, to make it. Then instead of stepping back and handing me my coffee, she sets it on this little shelf thing that is right in front of her and steps back to take my money. Thus leaving my poor coffee stranded in the abyss, alone, getting colder by the second...fortunately I only had to take two steps to rescue it from it's banishment to the little shelf thingy. I say down with the shelf thingy!

03/17/02
HAPPY ST. PATRICKS'S DAY!
May the luck of the Irish find ye today!

03/16/02
Oh my God I'm tired today...ever have one of those days where you can't seem to get out of first gear...first gear...geezuz...I'm barely out of neutral and I gotta go to work in an hour! Well watched a couple of farely good movies last night...watched Joyride, you know the one with the guy from Fast & The Furious, Paul Walker. Not bad at all, had you sitting on the edge of your seat a little, good suspense in this one..I think, could be wrong, but I think the voice of 'Rusty Nail' was the guy who was the kidnapper in Silence Of The Lambs. I also watched The Musketeer this was a decent movie, I've always liked this story, this one was a decent portrayal of it. The swordplay was some of the best I've ever seen. Well, I got my first bid on Ebay last night! That's cool...I hope more are to follow. Woke up this morning to about 1/4 " of ice all over everything including my car that I had to hack off so I could drive the girlfriend to work. Anyhoo gang that's it for today...gotta go take a nap... or something...later! Oh yah...we reached 4000 hits overnight last night! Keep coming back...I wanna hit 10K as soon as we can!
Ciao!

03/15/02
Well, Friday has arrived finally, not that that means much I still have one more day of work to go before this miserable week is over. Check this link out, this is really freaky! (Note: Stare at it for a few minutes and make sure sound is turned way up) Well, it sounds as though we are about to get our annual St. Pat's Day snow storm over the next day or so, it never fails, every year around the 17th we always get hit. It's weird, yesterday it was so nice out I was outside without a jacket, today they're calling for 10+cm of snow...sigh.
Anyhoo gang, I'm outta here...have a good day and stay out of trouble...if you can't, forget you know me, I can get in enough trouble all on my own.
03/14/02
Well, gang it's Thursday...big deal...insignificant day...hmmm, what to talk about today. Well, I added a bunch of stuff yesterday, I added a link on the left to my Ebay auctions that takes you directly to the stuff I'm selling on Ebay. Guys there will be some nice stuff there to give to your lady friends so check it out! I also added some more stuff to the city page, I've been neglecting that area for a while...so be sure to have a look in there. Oh, and click here to vote for Canada's Sexiest Bartender img src="http://www.umm.ca/images/index_logo.gif">
I'm telling you some of these girls are just damn fine, heh, and some of them are local gals...I actually went to school with one of them. I wished more of them worked around here...problem is I'd probably be an alcoholic...hmmm...and single. Oh well, they're nice on the eyes! Get voting gang! Ciao! (Don't forget to sign the guestbook if you haven't already!)

03/13/02
Are you sure it's not Friday today...it is the 13th and it seems like those two should go hand in hand the way my day is going...geezuz. Ever have one of those days, a day you had totally planned out, and one thing screws up at the beginning and throws the whole thing outta whack!? That's my day today...had a whole bunch of sh!t to do today and none of it seems to be getting done! This day has been FUBAR since I opened my eyes this morning. Well, Moncton didn't get it's 'Metro' status in the census yesterday. Our population in the downtown core was off by 7000 bloody people...but Dieppe is still growing...dammit. What the hell is up with Dieppe getting 19% growth over the last 4 years...geezuz. That's just wrong somehow. My friends Don & Christie have started a web page here at 50megs and as soon as they get it up to speed I'll add a link so that you can check it out. Anyhoo, I'm off to see if I can actually accomplish anything today...doubtfull...but here goes...wish me luck...I'm out! (Don't forget Survivor 4 is on tonight instead of tomorrow...will post the latest tomorrow!) Ciao!

03/12/02
Well, it's Tuesday...and you all know what that means...I get to work my favorite shift of the week...the morning...let the bitch fest begin! You know...I'm almost too tired to bitch today...hmmm...we get to find out from Statistics Canada today if Moncton has become a "Metropolitan" area...yah well if we have some idiot will be trying to finance building a subway under the Peticodiac or some crap like that...but hey, maybe that will feed more 'federal' money into the area and they can finally fix all of the geezuz roads around here! Man I swear to God I can hear my fillings rattling in my head over the car radio when I drive down some of these streets. It's insane! I swear the city is getting kickbacks from all of the places that fix springs and shocks for leaving the city's roads in such a state! Well, my buddy Derek is finally about to join us on the world wide web...he went out and got himself a shiny new 'puter from Dell last week and today he gets connected to his DSL. Welcome to the WWW my friend...once you weed through all of the crap...you can actually find this thing useful! Oh, and don't forget to sign my guestbook! Ciao...off to work gang! Woo hoo...sigh.

03/11/02
Well, it's Monday again and it's starting off in typical Monday fashion...you know, the most annoying day of the week. First, the girlfriend has to be at school an hour earlier this morning so that meant my alarm clock was going off at 6:00 freakin a.m. Then, I get up and it's minus bloody 21 out! (-21C) Yesterday it was PLUS 10! That's a thirty degree difference...and we all know how much I love the cold! To top that off I had to go out in it...fortunately that meant me getting a cup of Tims! And now I have to go get ready for work...sigh...the torture never seems to end. Never got to watch that X-Files last night...watched the WWF stars on the weakest link instead, God that's a riot...you'd never believe who won...KANE!...who woulda thunk it. He was just rattling off answers...I hardly saw him get one wrong! He won 83K for charity so that's cool...I just gotta figure out how to get myself registered as a charity!
03/10/02 Sunday, my one day off, what did I spend it doing? Working mostly...on crap that I can't seem to get done any other day of the week. Laundry, Dishes, Vaccuming...you know all that lovely stuff...plus I did some work listing on Ebay today. Now I'm off to watch the X-files and see how bad it bites...it really sucks this year...I just can't seem to get into the 'non-Mulder' era. It just doesn't work the same. Alias rocked tonight, and besides Sidney ain't hard on the eyes either!Ciao!

03/09/02 Well, Saturday is over and my one day weekend begin's...yes I work on Saturday's...it sucks but hey I kicked ass at work today. Commission bites but when you have a good day it can really pay off. Problem is those reeeeaally good days are too spread apart. Well, we are one week away from Wrestlemania X8 Live from Toronto's Skydome! They are predicting it to be one of, if not the, largest pay-per-view event EVER. I actually know a guy in the building that I work that is going (he left for Toronto yesterday). Not just that but the Monday after wrestlemania RAW is in Montreal...and he just happens to have to drive through Montreal to get back home...hmmm...think he'll be at RAW...ummm yah. So if you see a guy right up front with a sign that says "Bushman" that's him! Bushman is a nicname...his name is Fernand...get it 'Fern'=bush. I know it's bad but hey it works. Too bad he couldn't get to make it to Ottawa the next night for Smackdown...but that is too out of the way...he already paid \\$600 CAN for his tickets to wrestlemania! Don't laugh though...there is a seat in the front row that is reportedly going for $4,700 US right now...geezuz...I'm a wrestling fan...but that is just sick! Anyhoo, off to do some work elsewhere...Ciao!

03/08/02 Woo Hoo payday...sigh...I used to get excited about that, doesn't matter now though...by the end of the day I'll be broke again...sigh. Well, Sarah almost got her big boobs handed to her on a plate last night on Survivor 4. But big mamma got sent packin' (only by one vote) from the island...so we still have nice scenery...yes I'm talking about the island...hee hee or islands
for one more week anyway. Unfortunately it wasn't that twit shawn that went back to the hood the he is sooo endeared to.
Well, I've been bitching all winter about shovelling snow...but my efforts have not gone unnoticed..I got a very nice note from my mail lady delivering type person in my mail box today thanking me for taking the time to clear her a path...your welcome mail lady. Sigh...I feel all warm and squishy...let's hug. Whoa! Careful Jason...sorry folks almost lost it there...geezuz... Well everyone it is off to the shower and work I go...yay...have a good one...it is Friday after all.

03/07/02 Well, not much going down today...got to sleep in, yay...til 9:30 whoo...I did manage to get my first item listed on Ebay today...that's cool...went to Karate and started learning a new 'Kata'...hmmm...and now I'm at work! Yay. Well, tonight is the night...Episode 2 of Survivor 4. Hopefully they vote off that arrogant idiot Sean. Can't stand that little twit and I only saw him for one episode...tell's you something eh? Hopefully as well, we get to see more bikini action from Sarah...that would be nice wouldn't it....yezzzz!
03/06/02 Well it's another day off that is starting with an arguement...geezuz. My Dad blew through yesterday, we had a nice visit and he gave me some information on my family for the family tree stuff. I'm sort of at a loss for words today sooo... here...this is why women don't fix cars...be back later. Ciao!

03/05/02 I think that I am going to take up studying robotics...why? you ask would I put myself through such punishment...well, because in the long run it would alleviate another punishment...having to be up this goddamn early to go to work for someone that doesn't pay me near enough money for my time! You see...then I could send my robotic 'self' to work for me so I didn't have to go and could go back to bed...sigh. Well, my Dad is blowing threw town today...hope I'm feeling somewhat less anal and bitchy when he arrives due to the fact that he always says to me that I'm so negative...MOI!? My response is that the only reason that I bitch so much...is because I'm goooooood at it! Here's something of interest...if I happen to build a house in the near future I've been thinking of powering it with these...press here. Hey, why be suckling on the NB Power tit for ever...when there is energy out there that will eventually be free! I like free...free good! Anyhoo...that is my PSA for today! Ciao!

03/04/02 I tell you I wish I had one of those little strobe lights like they do on fire trucks on my car. Driving the girlfriend to school today...I think I hit every possible read light on the way there and the way back. Read in the paper this morning that atop one of the building's downtown there is a new video camera that gives a live 'eye' on Main St. So I guess there is no more 'shifting Mr. Happy' (guys will understand) or scratching your ass in public when u think no one is looking...because now...there is 'always' someone looking! Hee Hee You know one day weekend's are for the birds! I can't believe that it is Monday already...I need to buy a lottery ticket...sigh.

03/03/02 Well, it's taken me a while to update today...I've been working on my 'Family Tree' all day. It's actually quite fascinating when you start getting somewhere...I've actually followed my great grandfather's (mother's side) line back to about 1600...geezuz that's wild! I hope once I get a little further to put up some sort of "tree" page on here someday...a lot of research to do yet. (I spent 3 hours this afternoon and didn't even notice the time go buy...it's very absorbing) Go Here if your interested in seeing where you came from...trust me it's very addictive. Well, Sunday shopping started today...fortunately I didn't have to work...girlfriend did...from what I hear it wasn't the big success that city council had hoped...HA freakin' HA...Sunday shopping...geezuz. Have a good one everybody...off to do more research! Ciao!

03/02/02 Well, as you can see Jason's of the world is dead...I said I was going to kill it at the end of the month if no one wanted to participate...March 1...BAMM! It has been replaced by a very scantily clad...Home Theater Page...bare with me on this page as the Home Theater is still under construction...as is this page...this way we can all watch it grow together. Also as you may have noted most of the February post's have now been moved to the History page and can be accessed there to read or get to any of the internal links. OK..lawsuits are starting to get a little silly...click Here to read about this twit. Lady the only reason your going to sue for mental anguish is because you raised a socially inept geek that would rather sit home all day and jones on Nintendo...instead of being home all day getting some chick on his 'jones'! Geezuz, that's as ridiculous as my girlfriend going to sue my father for buying me a computer and spending so much time on it...get a grip. Have a good weekend gang!

03/01/02 Well, we made it to March a month with one of my favorite holiday's...St' Pat's. Yes...somewhere, not quite sure where, there is a little Irish in me. Aaah the month where we get to drink green beer! Well, Survivor came and went last night...and needless to say it was much better than in Africa, it had a few attractive young ladies with nice figures and...oh hell...they were hotties ok! Especially that Sarah...damn that girl looks fine in a bikini! What was up with that dufus that got voted off...Peter...can you say wacko?...I think he freaked people out by talking about all the orifices on the human body...no wonder they voted him off...they were scared to go to sleep with him around! Next week looks good too...look's like there is going to be some hunting going on...the old fashioned way...with spears...should be amusing if nothing else. Well, I'm pretty proud of myself...February marked the first month since the inception of this site that I ever posted every day! That's pretty good...I hope to do that from now on...we'll see...had a lot of people drop in in February but you people still aren't signing the guestbook...come on, it only takes a minute. What's up with the weekend...it seems to be taking it's sweet freakin' time getting here...sigh. Oh, to have a nice Monday to Friday job...do those still exist? Oh well, have a good weekend and I hope to see more people signing the guestbook in March! Ciao!


February 2002
02/28/02 Well, well, well...it's Thursday and almost the weekend...not close enough for me! It's not just any Thursday either...today is the day that half the planet plunk their fat asses down in front of the tube once more to watch...yup, you guessed it...

...and yes I will be one of the smucks that has his vcr set to tape it along with one of my favorites CSI. Jeff Probst (Host) said in an article in the paper that when the two new tribes of 'Rotu' and 'Maraamu' face off this time it is much better than Survivor Africa...which blew...the new twist this time is that they are not given any provisions (food) they must find 'everything' all on their own! This, in my opinion,...is survivor...he also says that this one won't seem like your watching the latest bad soap opera...the mood is much better this time! Hey...maybe there will be another 'pig killing'...and at least they're on a Tropical Island this time..."skinny dipping anyone!?" Hee Hee
02/27/02 Hey gang...how's it going...well, it's 'hump' day today...not much going on it's my day off and I'm still here typing away...Ciao!

02/26/02 Well now what to say today, it's Tuesday...nothing really significant about that...hmmm...mine and my girlfriends 1 1/2 year anniversary today...but I'm sure you care...I'm at work...during the morning, so that's not good...I KNOW!...My new Speakers sound great!!! Put them through various styles of music yesterday...a little Harry Conick, some Def Leppard, Edwin McCain, and Pink Floyd's 'Echoes'(both discs back to back) they also had Tomb Raider and some of Planet of the Apes put through them. Haven't pushed them too hard yet...they need a little "break-in" time yet...sigh...now just to get the rest of my Home Theater built...then I won't have to spend an ungodly amount of money at the real theater...A-HA!...I knew I could find something to bitch about! The theater! The girlfriend and I went to the movies the other night and holy sh!t!...we hadn't gone to the movies in a while and we had gotten \\$50 in gift certificates for x-mas, so figured what the heck! Thought, hmm, 50 bucks...hey we might get a couple of movies out of that...NO WAY! We walked in with fifty...we walked out with FIVE! $20 bucks just to get IN the door...another $25 just at the GODDAMN SNACK BAR! Geezuz! $25...for about a dozen stale nacho chips covered in some kind of cheese gunk and some milkduds and a pop for the girlfriend..."medium" popcorn & "medium" pop with some licorice for me...$25 BUCKS!!!??? Christ...it's no wonder no one socializes anymore...they can't afford to leave their house! Is it any wonder that "Home Theater" has become such a common phrase in today's society?! For the price of what I am planning on spending for my first 'real' home theater speaker set-up...the two of us could see...hmm...27 movies...I OWN more movies than that...once the HT is built...the only time you might see me in the theater...is maybe for something like Star Wars/LOTR...etc. You'd think the theater's would learn...moron's. Whew! Almost a regular, non-Olympic day with nothing to bitch about...that was close! Ciao!

02/25/02..."Oh Canada..." Ok, Ok, enough of that. It's Monday...sigh...that sucks...I have not had entirely enough time to enjoy my new speakers...
After this posting I'm going to play with them a bit...boom boom...Hey, we've gone over 3000 hit's...WOW!...Keep them coming gang... My goal is ten thousand hits by this time next year! (At least...and sign the guestbook!) Time to go blast some tunes and DVD's!

02/24/02

NEED I SAY MORE?...I didn't think so...


02/23/02 Woo Hoo...I'm HOME! Thank God! Heee hee and I made it in record time(2hr drive in 1hr 40 min)...I had a reason though...wanted to get home...wanted to see the girlfriend...AND I FINALLY scored my Paradigm Titan's!!!! (You can see them on the Audio Page!) I'll be putting up pic's soon! :) Yay Me! This is gonna b e a short post...going to play with my speakers!!! Got them just in time to watch Canada win the GOLD tomorrow!!! GO CANADA! (Apologies to anyone visiting from other countries, that I keep raving about Canada, but I am a proud canuck and an avid hockey fan!) Til' tomorrow gang! Ciao!

02/22/02

WOO HOO! I have three reason's to celebrate today! The Canadian woman's hockey team...kicked the USA's butt last night even though they played short handed for 26 minutes out of 60! Who's brilliant idea it was to stir up more contreversy in these Olympics by having an American referee officiate the GOLD medal game between the USA and Canada...guess the americans were sooooo scared of us, even though we were 0-8 against them all year, that they had to have their own referee to help them out. Geezuz...I mean even though they were shorthanded for almost half the game...the finishing shot's total was almost dead even! Congrat's to the Canadian woman...your doing us proud ladies! Second, the Canadian men's team seems to have finally gotten their stick's out of their asses and are now playing as a team...they defeated Belarus (note: means 'White Russia') today...comfortably rolling to a 7-1 victory...they now have the potential of winning their first gold in 50 years and bringing total hockey supremacy back to Canada once more! (ie. both the women and the men win gold) We will all be glued to our sets on Sunday to see the outcome...GO CANADA! Third...I only have one more day...one more day and I get to go home...Wooo Hoo...tomorrow...4:PM...I'm outta this town baby!
"Reporting live on location from Fredericton, I'm Jason Lorette for www.jasonlorette.50megs.com..."

02/21/02 Ok...there is entirely not enough caffine anywhere in the world to make this morning tolerable...sigh...god I hate mornings. It could have been worse I suppose...I was kinda hoping to be invited out by my co-worker last night as her and her friends were going out (and I seem to know no one in this town anymore)...but none the less...nope. Instead I had a date with Team Canada and watched them move on to the medal rounds after defeating Finland!
GO CANADA! Still watching for hotties for Core39...but not much on the horizon yet...sigh. It's funny, with nearly twenty thousand students in this town you'd think that there would be more good looking women around...I hate working day shift in Moncton...hmmm...yup, it's confirmed...I hate working day shift in Fredericton too. God, only two more days and I'm outta this burg! (But at least I have made a little bit of cash while I'm here...sigh)
"Reporting live on location from Fredericton, I'm Jason Lorette for www.jasonlorette.50megs.com..."

02/20/02 Holy Crap! Belarus beat Sweden! Now if Canada can just beat Finland tonight...keeping my fingers crossed...dammit...there's four hockey games on today and I only get to watch one...sigh. Wow, did anyone see Wayne Gretzky the other night...the eternal 'nice guy' of the game of hockey, actually got a little pissy! Well actually, he got a lot pissy! You could see him in the press conference almost shaking! Well, I wanted to take some pics of some 'foreign' hotties for Chris's "Core39" this week while I was here...problem is...haven't seen any yet! Dammit! Well, there is a possibility...remote...but a possibility that I may not have to stay here all week...sigh...that would be nice...the girlfriend would like it too, she's only called me like 20,000 times in the last three days...well, maybe not that much but at least once an hour when she's not in school...I miss you too honey...sigh...Oh well, that's it for today...off to hunt down a paintball gun to purchase so I can defend myself again Paul and his cohorts...and to check the hockey scores! Ciao!
"Reporting live on location from Fredericton, I'm Jason Lorette for www.jasonlorette.50megs.com..."

02/19/02 Well, here I am in Fredericton...sigh...it was as I suspected...when I checked in to the place that my boss booked for me I felt like I was in a scene from a bad 70's horror flick...or a bad 70's porn flick...heh, or a bad 70's pornographic horror flick! Man this place was nasty...I seriously don't think that I actually would have slept in the bed...on it...maybe...in the sheets...after disrobing...not a chance. I called around and found a place within a block of here (the mall), which was better than the other one which was almost 10kms away, AND it was only \\$14 more a night...convinced my boss to let me switch...thank GOD (Guess that is what my sanity is worth...$14)! So for the record...if ever in Fredericton do NOT stay at the 'Town & Country Motel'. So today I woke up (very late...sigh), to free coffee in the lobby (24 hours), a newspaper slipped under my door, clean sheets and a hot shower...oh!...and a 27" stereo color TV to watch the Olympics on! YAY me! Now as far as this work thing goes...sigh...Well, the booth was somewhat of a disaster when I got there, but I'm working on it...Candace (co-worker extrordinaire!) is a cutie...she's a doll...we are getting along well...she is a nice girl that is actually helping make this trip bareable. It would have been hell if I'd had to come up here and work with some psycho bitch from hell! (I know guys they can all be that way sometimes but...not this time!) Thank-you Candace. Not much else to report...I got a great night's sleep so I'm not as cranky as I usually am...I know, I know...you love to read my bitching...but hey...deal with it...Oh, I did stop into one of my old watering holes for lunch today..."THE HILLTOP" ...the food is still top notch...they have 12 different types of draft on tap...and that's all good...seems like they've gone down the road of being more of a restaurant than a bar...sigh, well, I still have the memories...sort of (drunken ones) of the place...but hey...if your looking for good food and bevarages...that's the place to go!
"Reporting live on location from Fredericton, I'm Jason Lorette for www.jasonlorette.50megs.com..."

02/18/02 Warning:Tired & Cranky Alert! Well, today's the day...it's not bad enough that I have to put up with the degenerates in the mall here...they have to send me to another city to put up with the degenerates there. To put up with the "Tim's" swilling low life's that bum around the mall all day shopping and never buy anything...that is if they are brave enough to venture off the path from the front door of the mall to the food court. Not only that I have to go to a city that has at least 4 of my ex-girlfriends living in it...and it's Murphy's Law...I'm bound to run into one of them! Crap. That ought to be hateful...I hope I have as little sleep and am as cranky as I am now when I run into her...maybe I should bring all of the therapy bills and wave that in their face (just kidding-Have never been to therapy but sounds like an interesting experience-not). I have to spend the week in some dump ass motel that my boss booked me into...no he couldn't get the nice hotel right beside the mall, nooo...he had to get one miles away...that doesn't sound like it is anything worth shit...as long as I have cable at least I'll be happy...yay, I can watch team Canada get their ass kicked tonight. Hopefully I am going to at least have access to the web at work there so I can keep you updated on how shitty my week is going...man I hope someone has their cheque book out for this one because it's gonna cost them for me doing this! Well, I'm off to run all over town and get ready to go...dammit...more fun...navigating through all of the idiot commuters in this city...geezuz. Well, at least I can leave you with something more entertaining than my ranting's...if you don't like my ranting's...tough...Here goes nothing....sigh....

02/17/02 Hey gang, Sunday...sleep in day....god I love sleeping in...AND day one of year two! Thanx to Derek and Chantal for the entertainment last night and the yummy grub...we went over for a 'fondue' and some adult beverages. I've added a couple more links to the left hand side of the page Core39 Chris has a cool site with some nice lookin' hotties on it and some other stuff...check it out. Also I added a link to How Stuff Works this site has everything about everything...and...how it works. It is a very informative site. Plus I added in a 'Logo Link' to UselessKnowledge as well. Well, gang off to feed the belly at the Big Stop...gotta spend some time with the girlfriend, I am leaving her for a week so, it's smooze time...hey, and maybe I'll get me some today...yay...'I'm not going to see you for a week, so here's something to remember me by SEX!' Should be fun!
02/16/02 TODAY IS THE ONE YEAR ANNIVERSARY OF THIS SITE! Thanx to all who have dropped in and those that keep coming back! Look for bigger and better things to come in year two!AND SIGN THE GUESTBOOK!

Well here is a sign of male ingenuity...Last night I was at work and dying to watch the first men's Olympic Hockey games (Even though Canada got puppy-stomped and looked like a bunch of minor leaguers). All I could get was the latest updates of the score on the web...so here's what we did...my manager who was home watching the game, called my cell phone on his cell phone...he took his cell phone and put it beside the speaker of his tv and turned up the volume a bit, then I plugged a headset into my phone and stood at work 'listening' to the game. God I love technology! THAT my friends is male ingenuity, when it comes to sports, we can find a way around any inconvenience. Ciao for now! Sign the guestbook! :)

02/15/02 Well there guys, we got another one of those "day's" under our belt's...hopefully all of you men out there got through it unscathed...no arguements or skull contusions from the sharp corners of a rather unwanted potential gift. Hopefully...you miraculously managed to acquire the last minute 'super' gift...take her to the appropriate food and beverage type establishment...and GET YOU SOME! Moving on...
Found out yesterday that I have to go to another city all next week and manage one of our stores...there has been some "misappropriation of funds" going on and it's time for me to go clean house baby, yah! That was wonderful news to give the girlfriend on Valentine's day (because she can't go too) but I made up for it...there was a Teddy Bear involved...anyhoo gang, hopefully you have a good day and keep signing the guestbook!

02/14/02

Happy Valentines Day!!
Now...all you poor smo's get to the mall and buy your gal the thing that you need to make up for the fact that you forgot that it was Valentine's Day! It amazes me how some men forget certain significant days...guys...you have four days a year that are the most important days of the year (No not Superbowl). And yes there are others but these are the most important (No, not the Stanley Cup Final game), Christmas, HER Birthday (not yours) Your Anniversary (and no I don't mean the anniversary of when you lost your virginity or some other thing like that that is only significant to you)and Valentine's Day! My advice guys, take down your Playboy calendar off of the wall (No not to throw it away, heaven forbid!) take a BLACK marker and circle the whole week that these specific days land on. THEN, take a RED marker and circle the actual day itself! See, it's that simple, then not only on your favorite calendar do you have boobies to look at...you save your ass from not getting any for about a month after that day because you forgot it! God I'm a genious! Get hoppin' boys...your sex life depends on it...this is the one day your assured of getting some...BUT only if you have the appropriate gift (no not a porn video)...GOOD LUCK GENTS! See you at the mall! (No I didn't forget...I work in a mall...I have my calendar to help me!) May we all get some tonight!
Just a suggestion:


...and no I don't mean the chick I mean the skimpy thing she's wearing...click the pic for a link to other suggestions...oh, and if you forgot, better take her to dinner too! Hey, don't be mad at me...your the one that forgot...I'm just trying to help you get some tonight!

02/13/02 Here we are once again, but something strange has happened...I woke up and it wasn't minus double digits out...it's only minus four...Wooo Hooo!...where are my shorts?! Hey gang I found this cool site last night...no Paul, it's not Porn. It's called Useless Knowledge, it's one of those trivia sites...it's got everything! I found out crap last night, that incidentally I will probably never need but is cool to know. For example did you know that in the 1920's, Canada, had a military plan devised to attack and conquer the USA! I did some more research and by military standards the plan was feasable enough that it could have worked! Wow...imagine the Canadian hockey team at the Olympics then, if all of North America, was actually Canada! Check out this site and wow all of your friends with your 'Useless Knowledge'...

02/12/02 Well gang not much to bitch about today...hmmm...that's unusual...anyway...nice to see that people from all over the world are dropping in. In the last week I have had hit's from the UK, New Zealand, the USA, Luxembourg...problem is I wish more people were signing the guestbook...please if you drop by take a moment and sign (I've highlighted it so it is easier to see). Well, have moved up to number five on the top referrers list on deadbodies.org (Top 100 sexiest women list) that's cool...but I wanna be number one! (Probably won't happen firlotte.com reins supreme) Check that site out when your done checking out mine (not that you really want to leave). So no Jason's have volunteered to join the list so I see that 'idea' will die a painful death...it's only there 'til the end of the month then it's toast if no one adds to it! (Besides it will create room for the Home Theater page...) Well, time to go warm up...it's been insanely bitch ass cold today...I woke up to -35C (-31F) today...yah, that really motivated me to get my ass out of bed when the guy trapped in my alarm clock told me that...(Note: Yes, it is cold enough that my brain has frozen and I've started to believe that there is a guy trapped in my clock radio talking to me)...God winter blows! Anyhoo...happy trails! Ciao!

02/11/02 Well, back to Monday again...weeee! We have two cat's and I think one of them wants to take up smoking. My girlfriend has this little butt out thing that sit's in the center of the ashtray. The cat in question likes to hide under the livingroom recliner, when we woke up...the butt out thing was gone from the ashtray...two half smoked cigarette's...and my girlfriends package of cigarette's were missing. Looking under the livingroom recliner...there were the two butts...the buttout thingy...and the pack of smokes. My girlfriend freaked...I said honey don't worry...well at least not until you find all that, the ashtray and a book of matches under there...then worry.
We got a weird weather thing happening today...when I drove the girlfriend to school this morning it was pouring rain, by the time we got there (5 min. drive) the temperature had dropped by about 5 degrees. The radio was calling for snow and high winds and what they call a 'flash freeze' where the temperature drops rapidly and everything that was melting freezes. Now four hours later, we have flooding in some streets, snow, high winds, -12C (this morning it was +5C), and they are cancelling everything around the city. My problem with this, have they closed where I work...NO...the mall in which my store is never closes! Ahhh...retail, what a life...they'll probably close it after they get all the employees there. Dammit. Have a nice day people!

02/10/02 Ohhhh...Hangover's suck! Click HERE to go to www.hungover.net to learn more about the wonderful world of hangover's...sigh. Well, the secret from last night is out...it was a surprise B-Day party for my buddy Derek. His fiance and I booked the private room at a local pool hall (Dooly's). This room has it's own table, stereo, waitress, and it's soundproof so you can turn the music up in it as loud as you want! A good time was had by all and the birthday boy suspected nothing...we drank, ate cake, initiated the birthday boy into the 'Flaming Sambuca Ring', played pool and partied until the wee hours. Speaking of playing pool, I just have to rub in the fact that I actually beat Paul (www.firlotte.com)at pool, which I just had to do after seeing that he showed up with his own cue. Yes, for the record, he did beat me later...but I have bragging rights because I won the first game! Well, gang that is the update...for now...have to go find some Tylenol...look for lot's new stuff to show up here soon! Oh, and if you need to search something while your here I added the "Google" search again at the bottom of the page. Check back for all the new stuff and SIGN THE GUESTBOOK! Ciao!

02/09/02 Hello all, well it's finally Saturday...I'm at work and in a good mood (That's odd). My mood might have something to do with the festivities planned for this evening but certain aspects of that are a secret so as to not spoil the secret...stay tuned tomorrow for the post game report! Thanx to all who've dropped in and signed the guestbook...keep the notes coming! Question: Why when women put on a few pounds they cut their hair? Do they think that that is going to make them substantially lighter? Or is it a diversionary tactic...we look at your hair instead of your hips? (Long Story) Anyhoo, now that I've pissed off the women folk...I'm outta here...Ciao!

02/08/02 Well, it's snowing again...yay. If it's not freezing cold it's snowing. This day did not start off well, first I overslept making the girlfriend late for school...second it's snowing, then I got behind one of those aggrevating people at Tim Horton's. You know the one I'm talking about...the guy that is ordering coffee and donut's for every person he knows. All the people at work, everyone in his family, everyone at his family's work/school, his neighbors, and everyone in the coffee shop but you. God that is annoying...line-ups suck!
On a side note I added another page to the web site last night, 'Jason's of The World', it's a page for all the Jason's of the world to log themselves in and be counted just for having such a great name. I'm leaving it up until the end of the month...if no Jason's want to be listed then I'm removing it...need the bandwith for other stuff to come but if it takes off I'll leave it up. Oh, and I added a couple of new links on the side column today...I'm out!

02/07/02 Well, lovely it started out even colder today than yesterday...-31! (-24F) Brrrrr! Not fun! For all you southerners that think it would be kewl to have winter...ummmm no!
Well, I have made the list of recent referral sites on the Top 100 Sexiest Woman List, click on the link on the left and see some of the world's most beautiful women ( with pics too!!) and help me climb the list of referring types...tanx, plus deadbodies.org is a cool site and has some neat stuff on it.
For those of you dropping in regularily that haven't signed the guestbook please do. I like to see who is looking in and from where you all are. For those that are looking in for the first time please sign the guestbook page...to read the guestbook...click on the 'Lita' picture on the guestbook sign-up page, then you can see who's dropping in too!.
Anyhoo, not much to rant about to day so I'll leave you with this joke:

A doctor and his wife were having a big argument at breakfast. "You aren't so good in bed either!", he shouted and stormed off to work.By mid morning, he decided he'd better make amends and called home.
"What took you so long to answer?"
"I was in bed."
"What were you doing in bed this late?"
"Getting a second opinion."

Ouch!

02/06/02 -26C (-15F)...sigh...what a thing to wake up to and on my day off no less. Ahh, to win the lottery and buy a small ocean front property somewhere tropical, sit on the beach all day and drink creamy drinks served by a girl in a tiny little grass skirt...sigh, one can dream. So I was surfing around the net last night and it absolutely amazes me what is on this WWW. How much unbelievable and useless paraphenalia is on the web...for all the people that create web sites to chronicle the lives of their cats...you need to get a life. Well, traffic has seemed to increase since I added jasonlorette.com to about 30 search engines the other day...over 100 hits in 4 days...weeeeee! Keep those hits coming...and sign the guestbook! Anyhoo, might post more later today...who knows...
02/05/02 Ok, that's it, I'm fed up..I have officially had enough of winter! It is full fledged Jason bitching weather out there today...not only did I wake up to -20C (-4F) temperatures...to make matters worse I had to go out in it! I hate anything with a minus attached to it, especially temperatures. As you all can see we managed to pass the 2000 hits mark prior to this site's one year anniversary (Feb.16/02)...thanx to all who have stopped in and to all who stop in regularily...now it is off to try and reach 3000! Woo Hoo! As you can all see I added some new links on the left hand side of the page in honour of the 2000 hit mark: a Team Canada link (so we can all keep track of the hockey scores in the Olympics), the 100 Sexiest Women (that one should be obvious), TSN.ca (just because sports rock!), and PaulFirlotte.com (just because everyone should look at that site at least once). Stay tuned for more to be added to the column soon! Off to 3000 we go! God dammit I'm cold!
02/04/02 Well, here we are again...Monday...ain't it grand. I really have to do something about these one day weekends! I don't really have that much to say today, I know it's odd isn't it...me...of all people...at a loss for words. Well, I looked at something on Paul's site today that was interesting and thought that I would add the link on this page today too, if nothing else I can leave you with a link to good looking women...


02/03/02 Holy Crap....the Patriots won! Yes, another Super Bowl has come and gone. Who would have thought...it was somewhat of an upset and thanx to Todd and Kelly for letting us join them at their place for the festivities. Congrat's to the "Pat's" for this year's win at Super Bowl XXXVI!
New England Patriots Super Bowl XXXVI Champs!

02/02/02 Well, today is a 'Palindrome' day...what is that you ask? Look at today's calendar...02/02/02, no matter how you look at it, or arrange it...the numbers come out the same. That's a Palindrome: "A string of numbers words or sentences that read the same backwards or forward". A palindrome year like 2002 happens every 110 years...thanx for that wonderful trivia tidbit courtesy of the 'Times' today...bored yet? Well today was an utterly frigid day! We are getting silly temperatures like -30C (-22F)...geezuz, I might as well go sleep in my deep freeze...it might be warmer...no WINDCHILL! Found a great site today that has all your favorite 80's arcade video games on it that you can play online or download to play...classic's like 'Defender' & 'Space Invaders'...click HERE to play all of the greats that started it all...sorry to all you really old fogies...there is no PONG!
02/01/02 Well, finally January is gone and February has begun...and it looks like it is starting out the same "Heavy Snowfall Warning!" So it looks as though there will be some more bitching about snowplow drivers here very soon. They (There is that 'they' again) are calling for another foot or more of snow, starting today...ending, huh that would imply that this misery is going to end...sigh. As you can see the post's from January have all been moved to the "History Page" and you can access them from there from the link below or on the left of your screen. Keep the hit's coming we've almost hit the 2000 mark and we are rapidly approaching the one year anniversary of this site (Feb 16/02) Woo Hoo! Keep em' comin' and stay tuned

January 2002
01/31/02 Wow, the end of January already...the first month of 2002 just flew past..."blink". Well, woke up to a lovely thing this morning...the radio announcer saying that tomorrow we are supposed to get another 20-30cm (8-12inches) of snow tomorrow, with high winds...blah blah blah. We have already got 3-4 FEET of snow this month! Sigh....is it ever going to end, my driveway's buried, my lawn is buried, my BBQ is buried, I want summer...NOW.
Oh! Congrat's must go out to my friends Derek & Chantal on the announcement that they are going to have a BABY!!! More details later. God, now my girlfried will want one...sigh...ummm, no. Not just yet honey. Hey gang, we are almost to 2000 hits...we have to hit that before February 16/02 as that is the one year anniversary of me having this little blurb of a site on the WWW. Keep the hits coming!

01/29/02 Well, it's supposed to snow again today...but I'm not going to get into that. I just read in the local newspaper Moncton Times & Transcript about a house. Big deal you say...well this house and a lot of it's furniture, including desks, a lamp, and even a grandfather clock...were built in 1922. Again, big deal you say what is so special about that? Well, the technological marvel of engineering ingenuity of this feat was the fact that this house was built entirely out of newspapers. That's right newspapers...you can read on the walls of the house about things like the second world war, Lindberg's crossing of the Atlantic ocean, the flight of the Zeppelin's, and about the disappearance of Emelia Earhardt. I'm in the process of researching this structure and if I come across some pics I'll post them...now I give credit to local recycling efforts...but THAT is recycling! More later...have a great day gang!
(I'm entirely too chipper for 8:00 a.m...this is very rare!)
01/28/02 Weekend Gone? Monday? What? How the hell did that happen? God I hate having one day weekend's...it really blows. Kudos to Paul and Cynthia(firlotte.com) for an enjoyable evening Saturday night at the 'Firlotte.com World Headquarters' and thanx to Paul for letting me shoot that damn nasty gun again...oh and also for reminding me how insufficient my home theater is...thanx paul...sigh. Speaking of Home theater...I should, if I'm able to generate the funds within the next week or so be able to score my new "front's" my new Paradigm Titans (see audio vs. video page) I can't wait...more on that later...oh well, off to work and the beginning of another miserable week! Ciao!
01/25/02 Ahhh, Friday...pay day (doesn't matter still broke) one more day of work and I get to be social at the home of Paul & Cynthia (firlotte.com). Oh, I'm still in the market for that Rocket Launcher...Damn snow plow drivers! Not only did he fill in my driveway again...I was out shovelling last night around midnight, less I have to do in the morning when I take the girlfriend to college, and he filled in my driveway right in front of me! That's not the worst of it, he filled in my driveway AND emptied his blade in my driveway...pushing the snow up into my driveway so that he didn't have as much on it when he continued on around the corner! Right in front of me! So anybody know where I can get the rocket launcher...let me know!
01/23/02 Here we are again, well, today is just a good day...why? Let's see, well, with this post I am only two hundred hits away from reaching 2000. Today is the first day in what seems like forever that I woke up and it wasn't snowing. Today was the first day I woke up that some idiot snow plow driver hadn't neatly built an impenetrable wall of snow, ice and crud at the end of my driveway. I have the day off, girlfriend out of the house until supper time, I have a fresh mug of coffee...the day is starting off well...funny thing is, I have this overwhelming urge to go back to bed.

01/20/02Well, not much to say today, it's my day off, finally...and I had my Karate class postponed, I'm kicking around drinking coffee and playin' on the puter'. I have to go to a shindig later for the girlfriends work/staff, that should be a joy...sitting around for hours with people I don't or hardly know trying to be nice and polite for the girlfriends sake...geezuz...I don't want to have to be polite on my day off! Oh well, at least it's an all you can eat buffet and booze...depends on how much booze I consume how polite I am. Well, here is the latest from firlotte.com land...Paul is now trying to get me hooked into another one of his obsession's...other than Home Audio...

...know what that is...a Paintball Gun...sorry marker...geezuz...see I was resisting up until he let me shoot the damn thing the last time I was at his house...if I keep associating with Paul I'm destined to be broke for the rest of my life! Damn obsessions....sigh.
01/19/02 Yah, Yah, I know, I haven't posted in a few days...deal with it! Well, thank God this week is almost over, it's Saturday and I have one more day of "Hell In A Cell" (The Mall) to get through and it'll be my weekend...yay my weekend...Sunday. Geezuz and by the sounds of it I'm about to lose that with the whole Sunday shopping thing starting up year round...but don't get me started. Well, I have been invited by Paul Firlotte of the illustrious www.firlotte.com to pen an editorial for that ever so informative site. Problem is, for people who have read this jovial and at times informative site of debauchery, that I have yet to come up with a pearl of literature that is of a level of worthy humour and bitchyness for said publication...stay tuned for that!
01/15/02 Oh great!...It's freakin' snowing again...and they are saying that we are supposed to get another 25+ cm (10+ inches)! That's all I need is another almost foot of snow on top of the other foot we got on Sunday! I think that Mother Nature is on speed or something! Oh my back...Chiropractor's must love winter!
01/14/02 Sorry to all of you individuals for not posting in the last few days but I have been digging myself out from under the inordinate amount of snow that we have been getting...but I'm out...and I'm back...aren't you so happy! NOW enough with the nice stuff...I'm here to talk about a conspiracy...the SNOWPLOW conspiracy.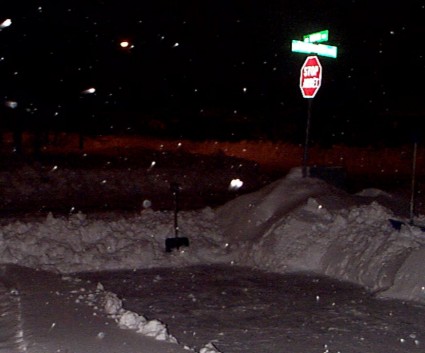 These bastards...I swear to God they all get on their radio's and talk to one another...
Pshhht (radio sound) " Hey Fred, there's a guy that just started shovelling his driveway on the corner of Ellerdale and Royal Road, swing over this way...by the time your here he should be done and you can fill him in again..." Pshhht.
Pshhht "On my way Bubba!" Pshhht
...Bastards. As well, they ( the infamous 'they' again) say that these idiots plow at night "because there is less traffic on the road"...BULL!...they plow at night to pull the snow over our eyes...they wait until most of the lights go out in residential areas and..."Psshhht!"
Anyone know where I can buy a Rocket Launcher cheap!...Pssht..."Bubba, I'm just coming up on that guy on Ellerdale and...Holy ShiT!...BOOOOM!
01/09/02 Hmmm not much to say today...people are weird...they can't drive..and they suck. I'm going back to bed.
01/08/02 Well, another day that started out with snow...blech. Slippery roads...blech. Sub-Zero temperature's...BLECH! Oh well, it is Canada...and it is January. Speaking of January, as you may have noticed, the December daily post's have now been moved to the 'History Page'...to read them, just click on the link to the left or at the bottom of the page above Garfield. Have a nice day! I'm too cheery right now...what's up with that...oh well, enjoy it while it last's! (Maybe it's because I started pricing my new home theatre components today...hmmm...now just to find the \\$$$)
01/07/02 Well, the weekend was great Started with WWF Friday night a t the Coliseum...check out a few of the "pic's on the 'Junk Pictures' page. I'm happy I got to see my Lita...mmmm yummy (There's more pic's of her too!). Saturday came and went as usual...Sunday spent at Paul and Cynthia's...yummy lasagna Cynthia! Thanx! And now, you can tell it's Monday!...wake up this morning, at 6:00a.m, to drive the girlfriend to school, and it's snowing a bit, I come back about a half hour later...it's time to shovel...geezuz. We're supposed...oh crap!...the plow just drove by...more shovelling. We're supposed to get 15-20cm (6-10 inches)today...yeesh, gotta go see what damage the plow did.
01/04/02

LITA HERE I COME!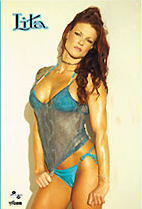 01/02/02 Welcome to the new year! I took some time off from updating for the holidays...I hope that everyone made it through unscathed and with lot's of new toys!!! Speaking of new toys...I am updating the site from my newest toy...that's right I finally have my first computer at home. I'm so excited...I just hooked up my high speed internet and now I'm off and running! More later...time to play....oh and THANX DAD!!!